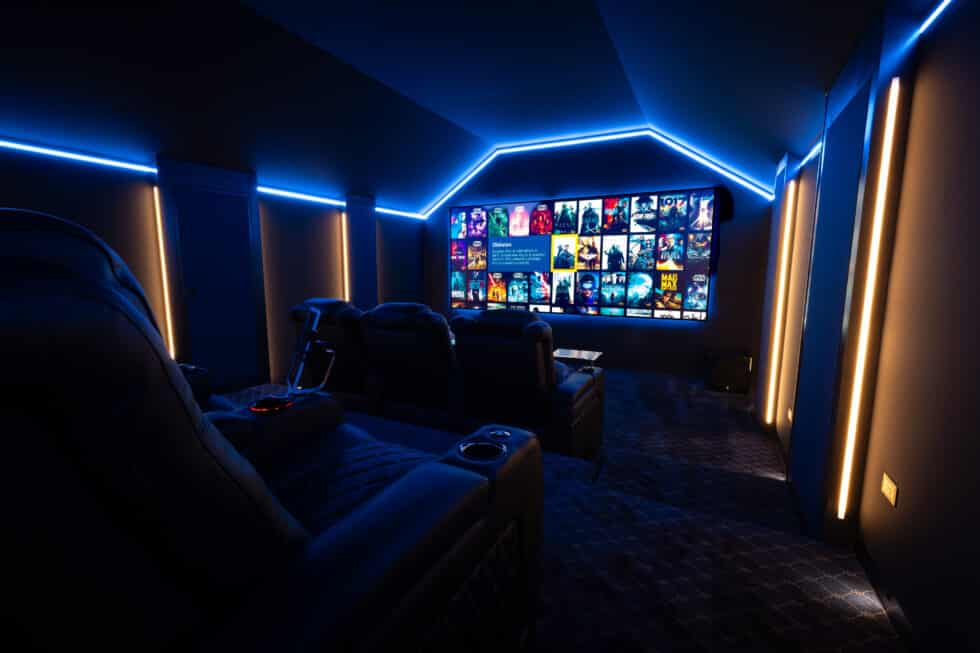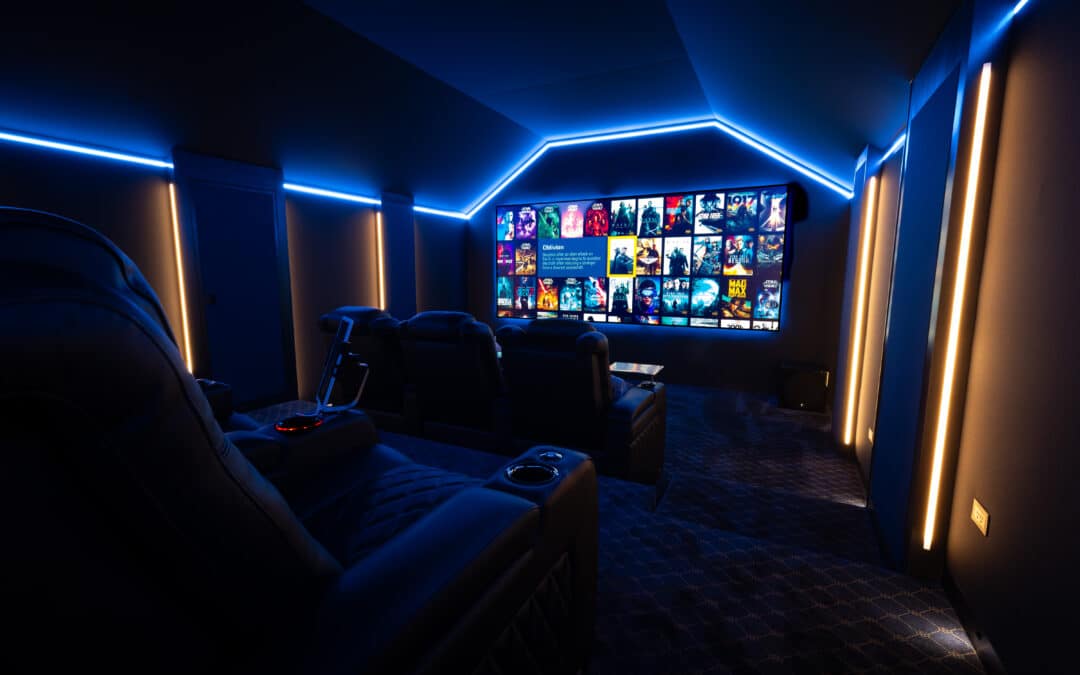 A lofty Theater design
As you can probably guess, you never know where you will be asked to build a home theater. Having a completely blank slate is almost unheard of, and this project began its life as a bonus room over a new home's garage space.
Like most structures not built from the ground up as dedicated screening rooms, this build had its fair share of design challenges. Chief among them was the litany of angled walls, the vaulted ceiling, and the need for a doorway to access an attic library space in the middle of the room.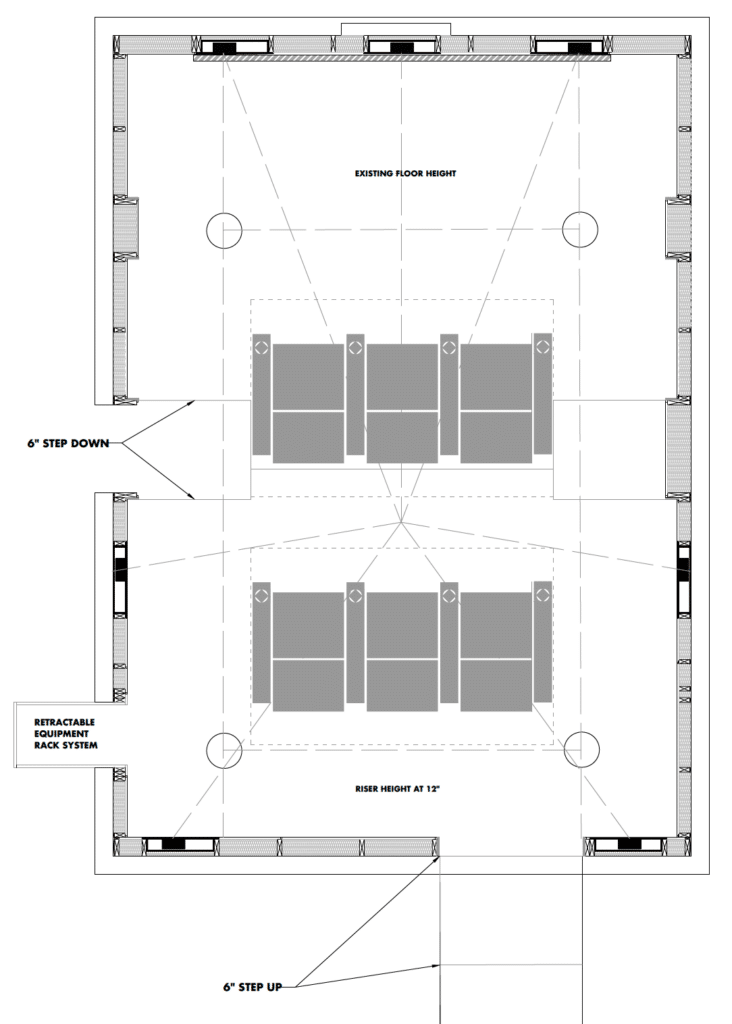 We decided to break up the long walls in the room with columns to serve the dual function of providing visual interest and concealing the extra depth needed for bass trapping to tighten up the acoustics.
The real elephant in the room was the puzzle of maintaining access to the adjacent attic library space without compromising the theater's overall design or acoustics.
We ultimately settled on concealing a door inside one of the room's decorative columns.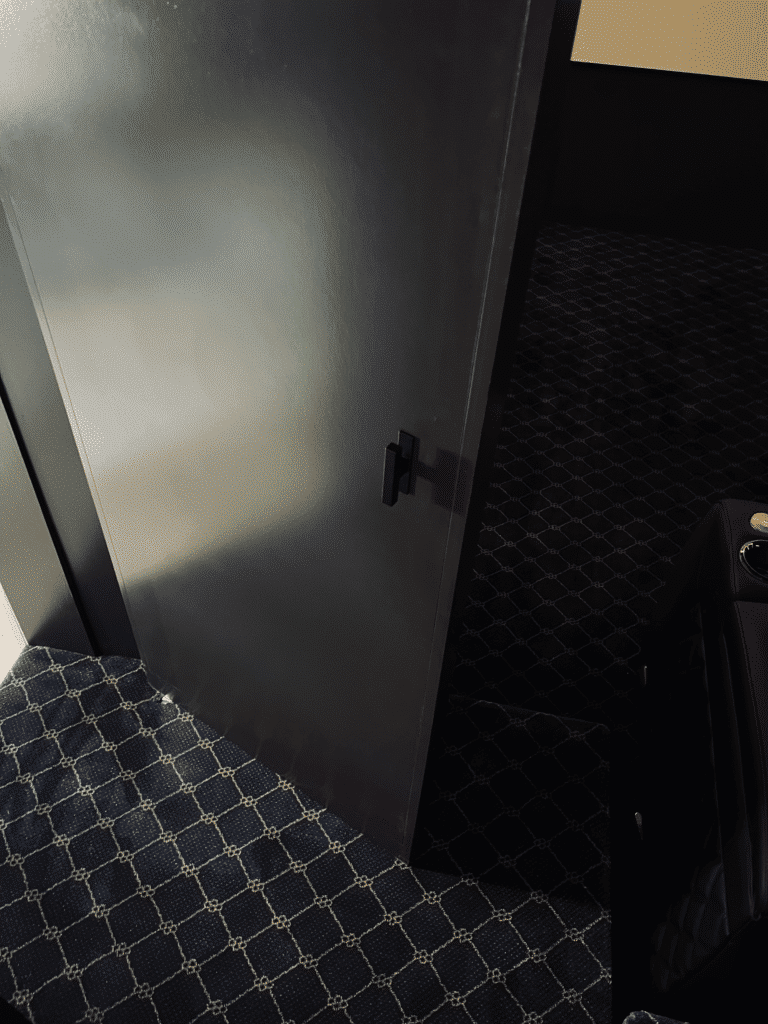 This was accomplished using a custom door, with acoustic treatments applied directly to its face.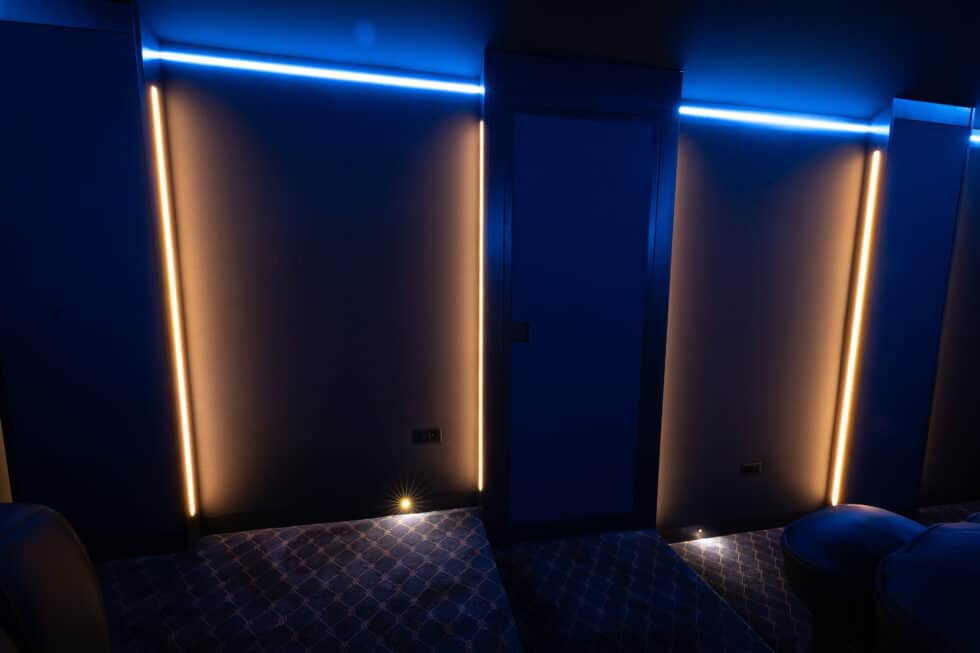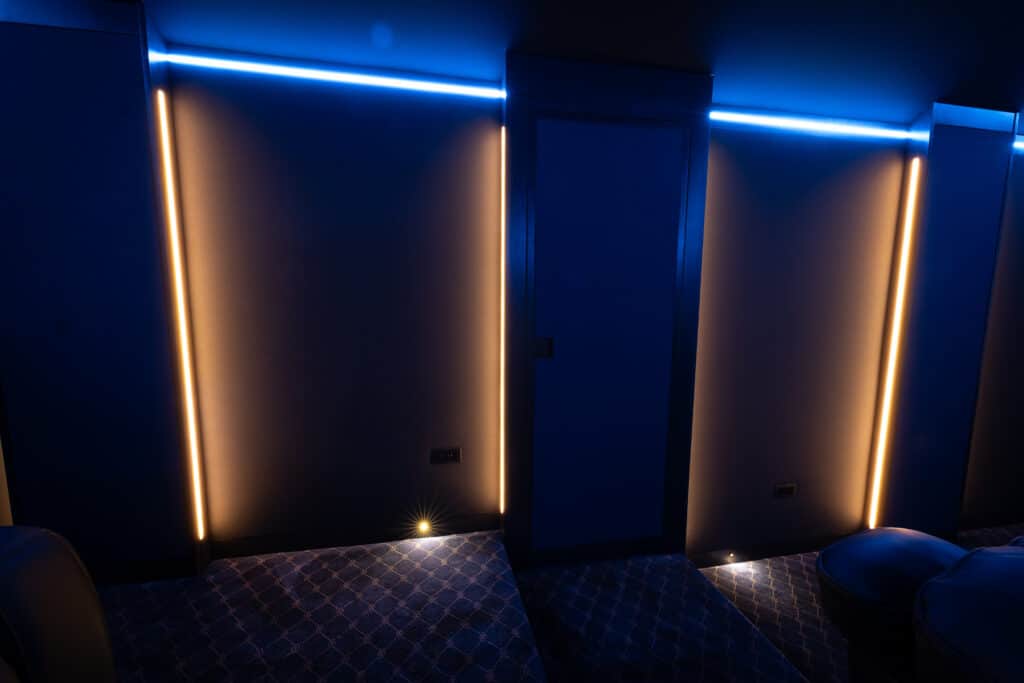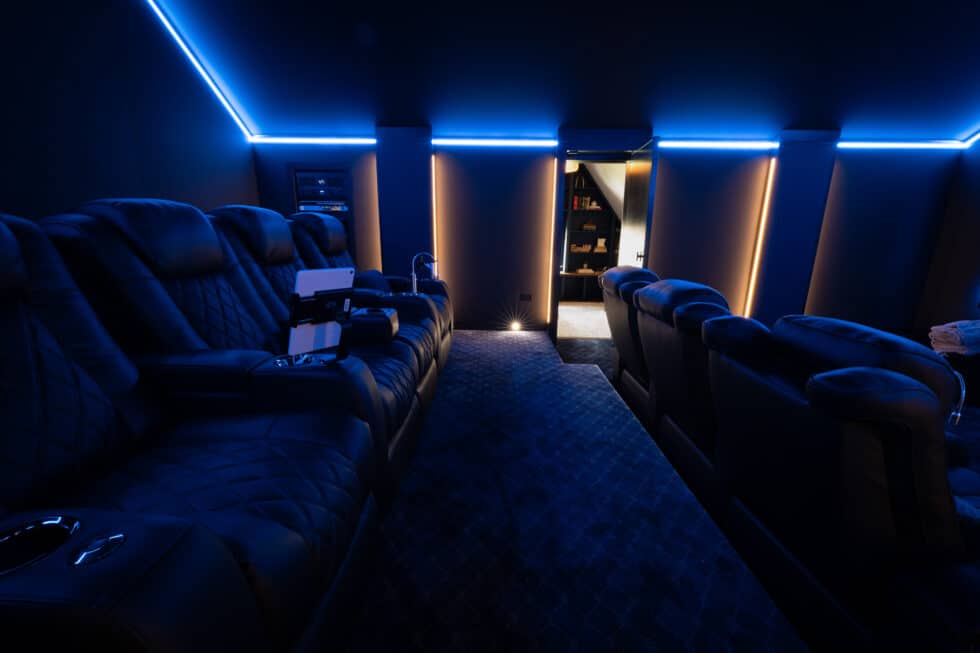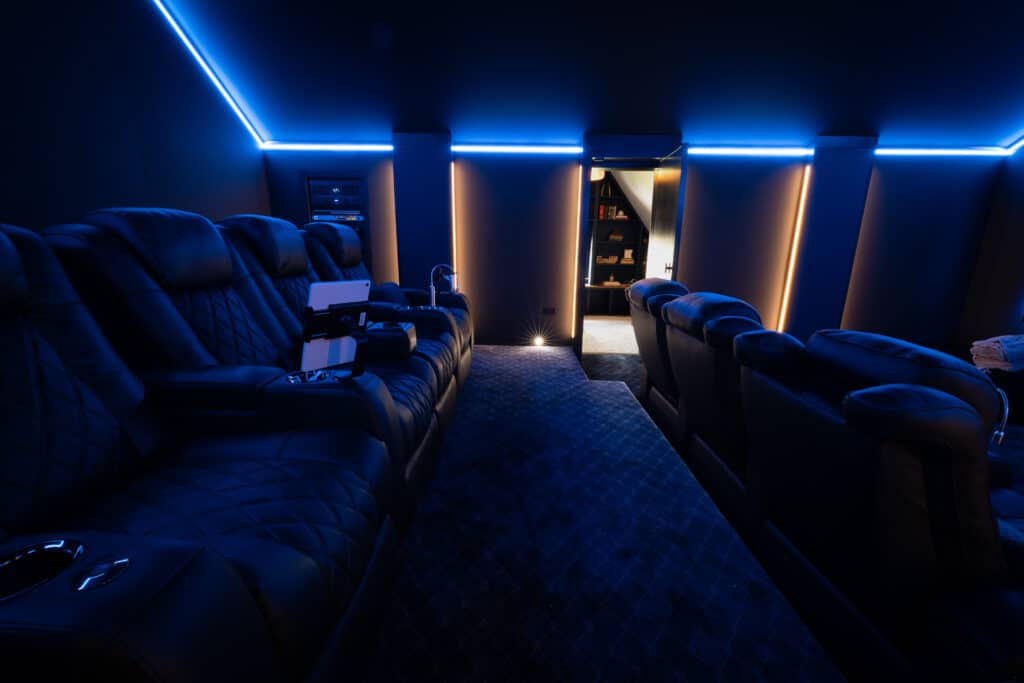 Space was also at a premium, so we also needed to find a way to minimize gear deployment inside the room.
We were able to commandeer some unclaimed attic space and installed a recessed rack to house all the equipment. This kept things accessible while also not encroaching on the livable space in the room.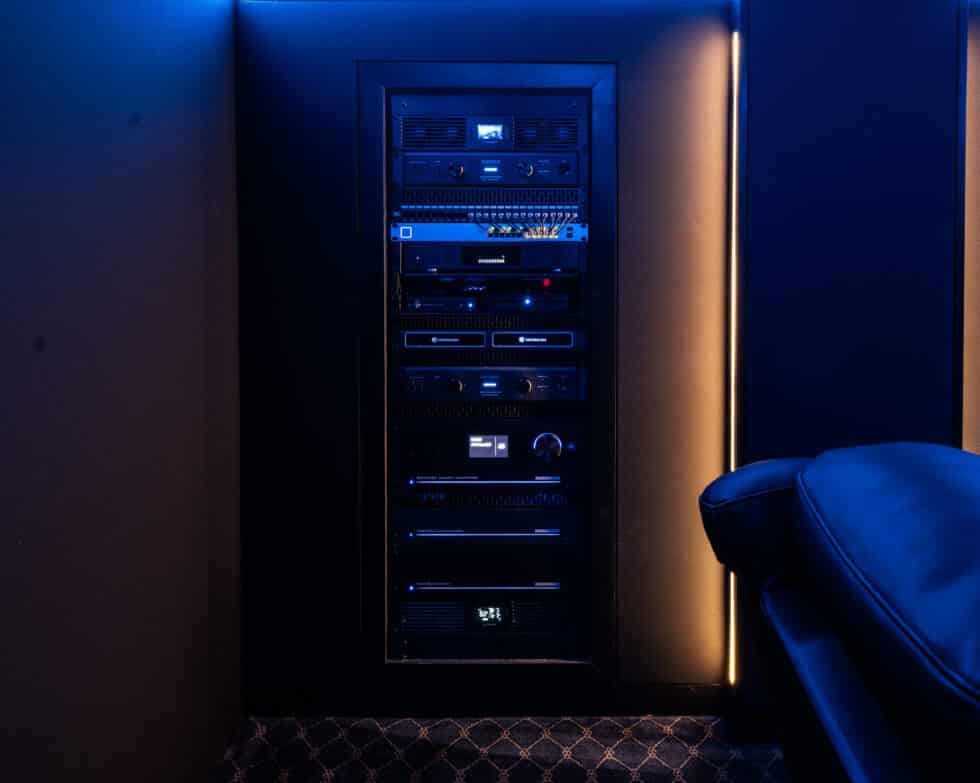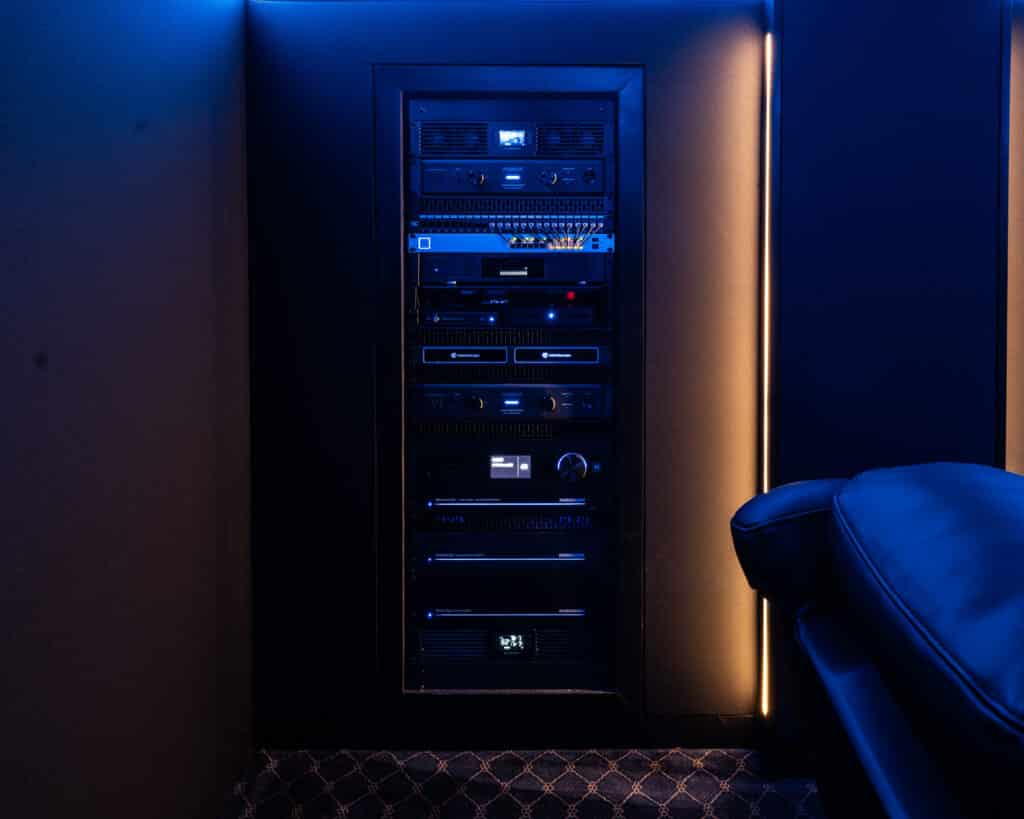 Audio:
The client opted for identical in-wall Focal 300 series speakers in all seven primary positions and a timber-matched set of 8″ In-Ceiling speakers for Atmos.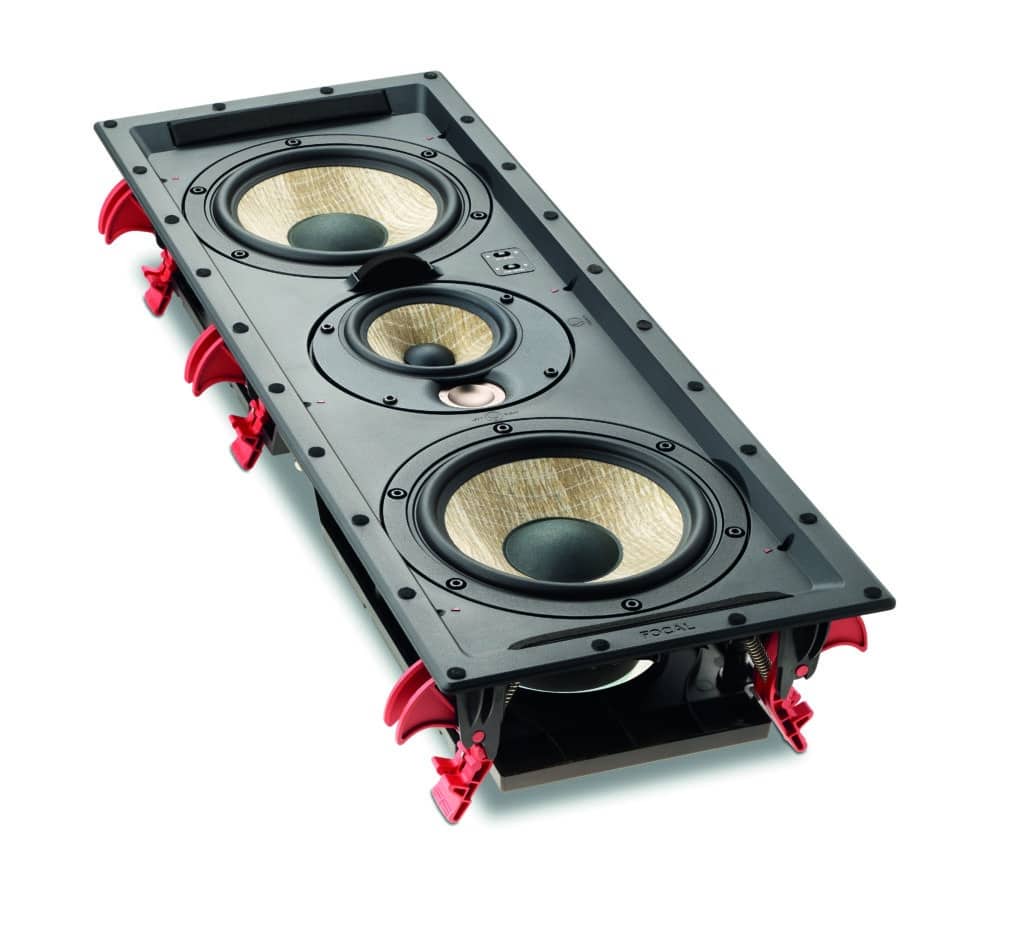 A duo of Focal subwoofers rounded out the low end.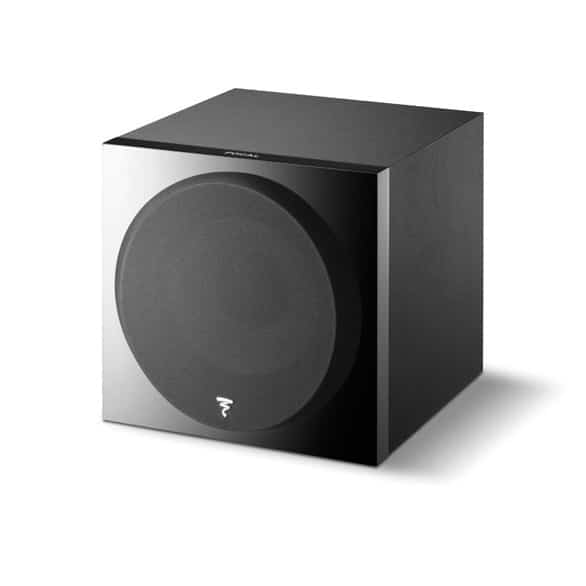 A Nice Remote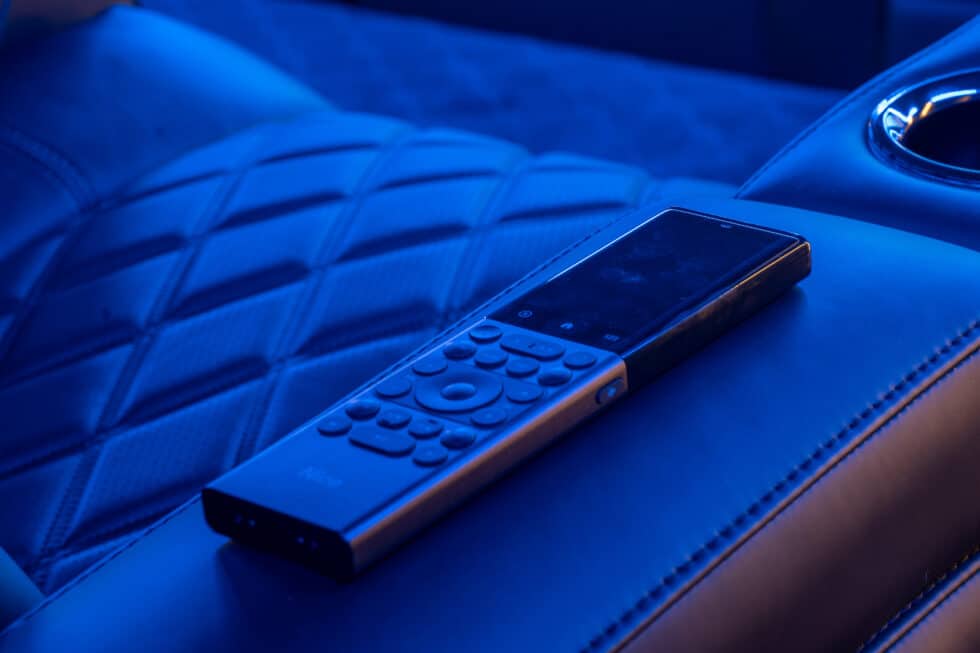 This also marked our first deployment of the new Nice HR40 remote control. It offers seamless control of all of the sources in the system and even shows cover art from the Kaleidescape during playback.
The finest source: Kaleidescape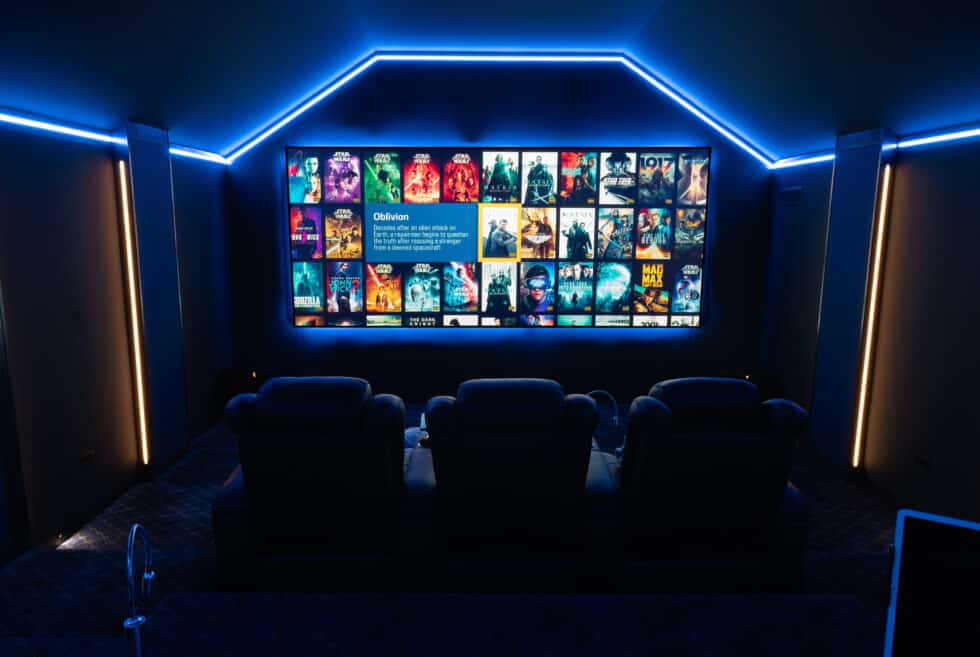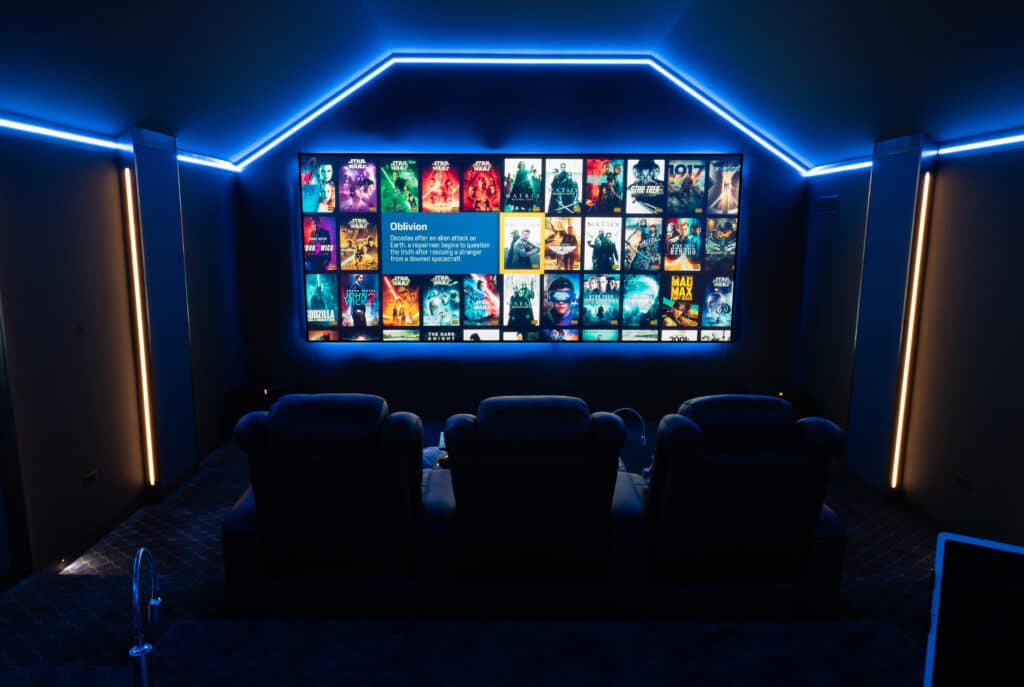 It's been a long-standing secret that if you want the best picture quality, there's only one place to get your movies.
Long hailed by Hollywood moguls and used in their own personal theaters, the Kaleidescape Strato player serves up movies at a higher quality than HD Blu-Ray with unadulterated audio to match.
Construction Gallery: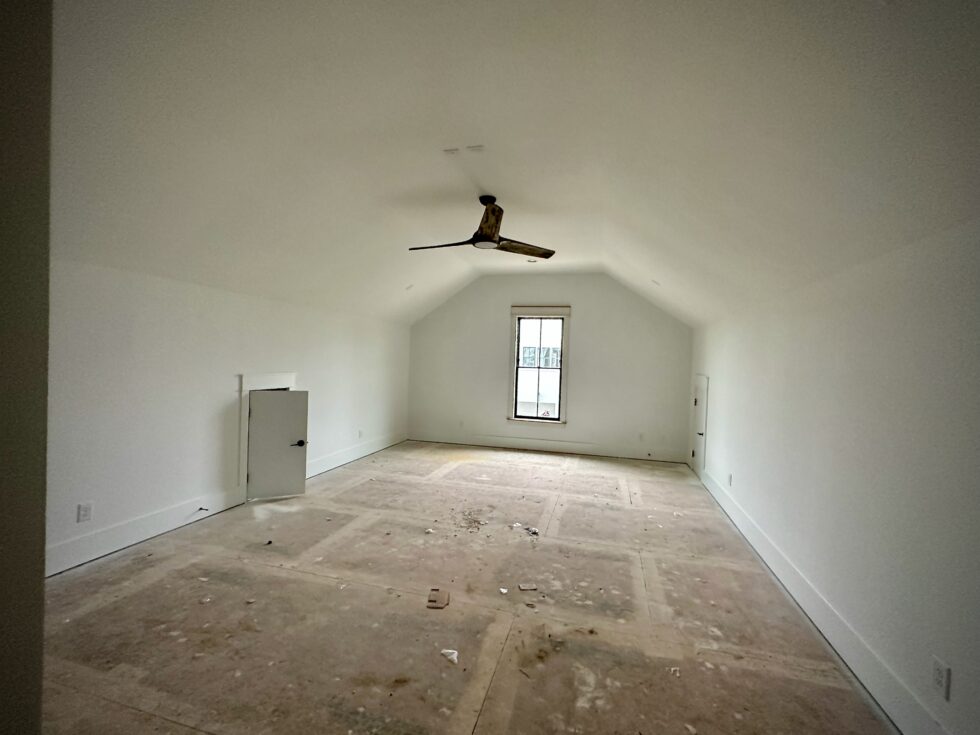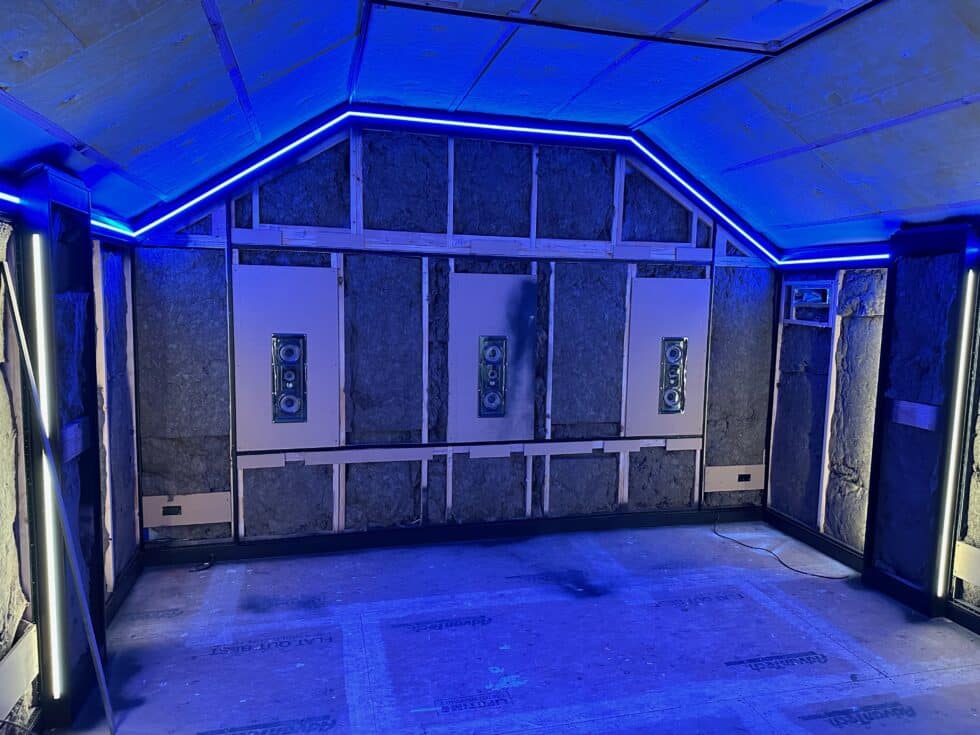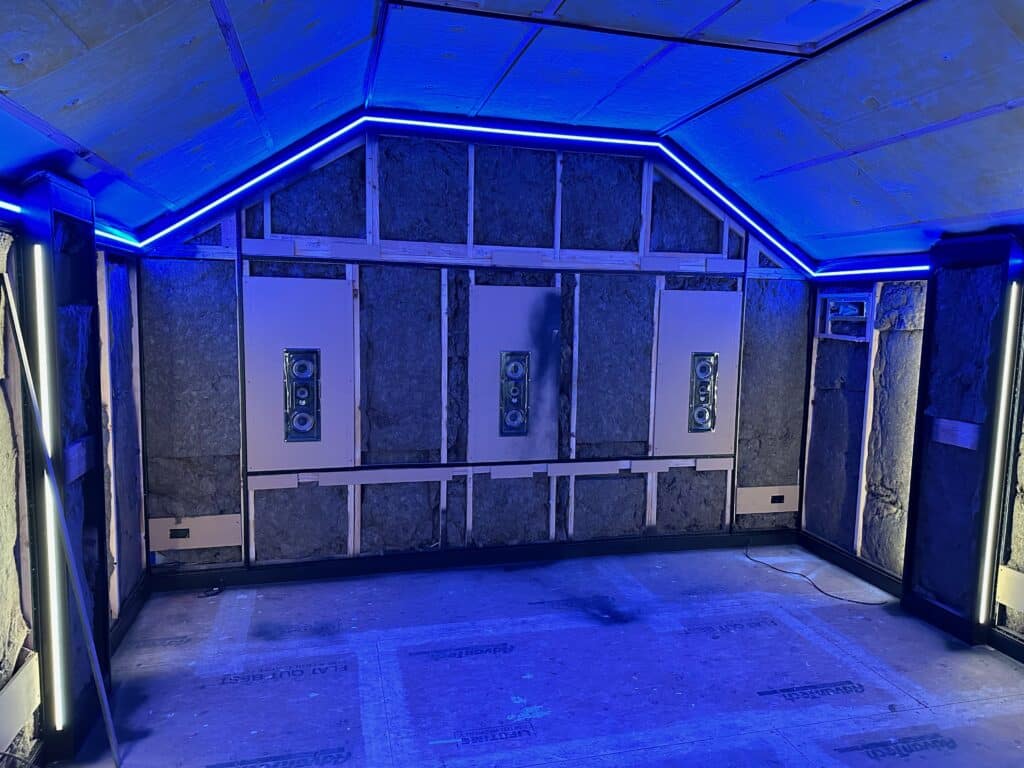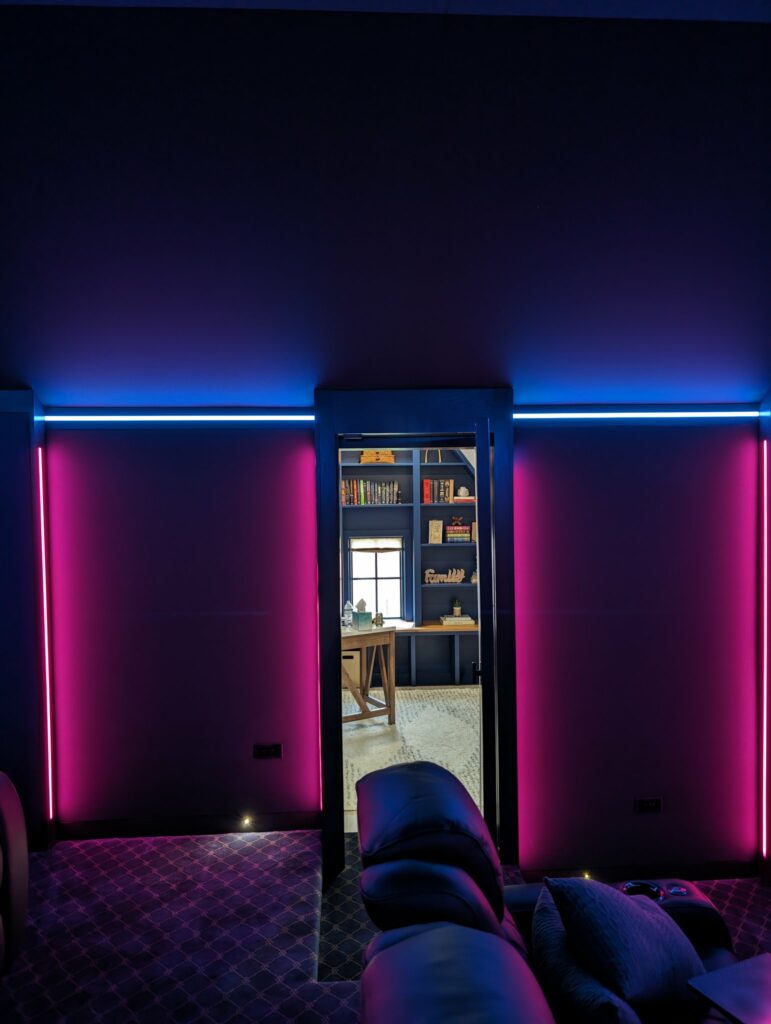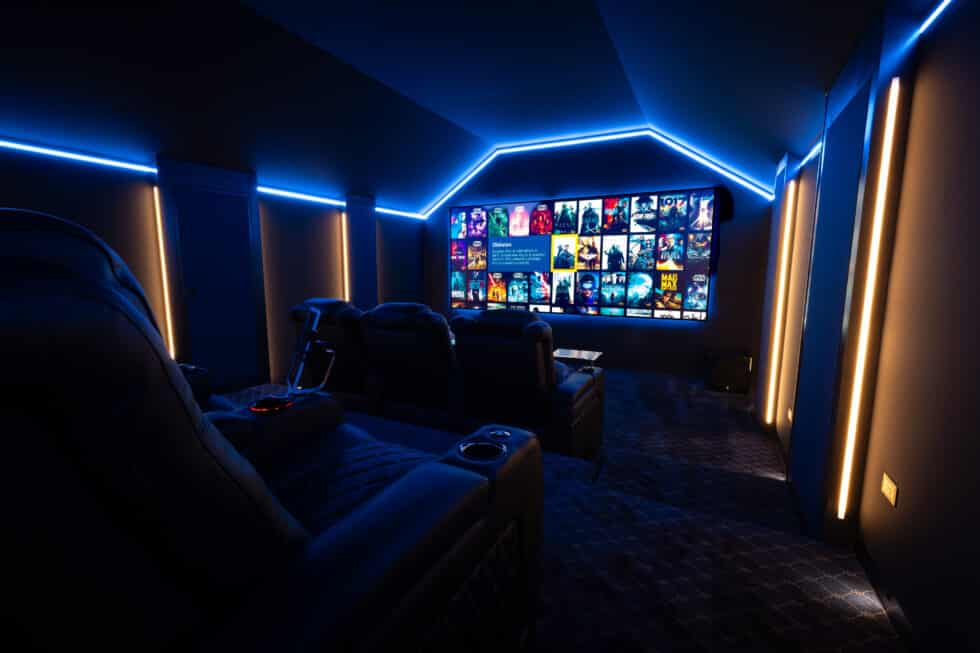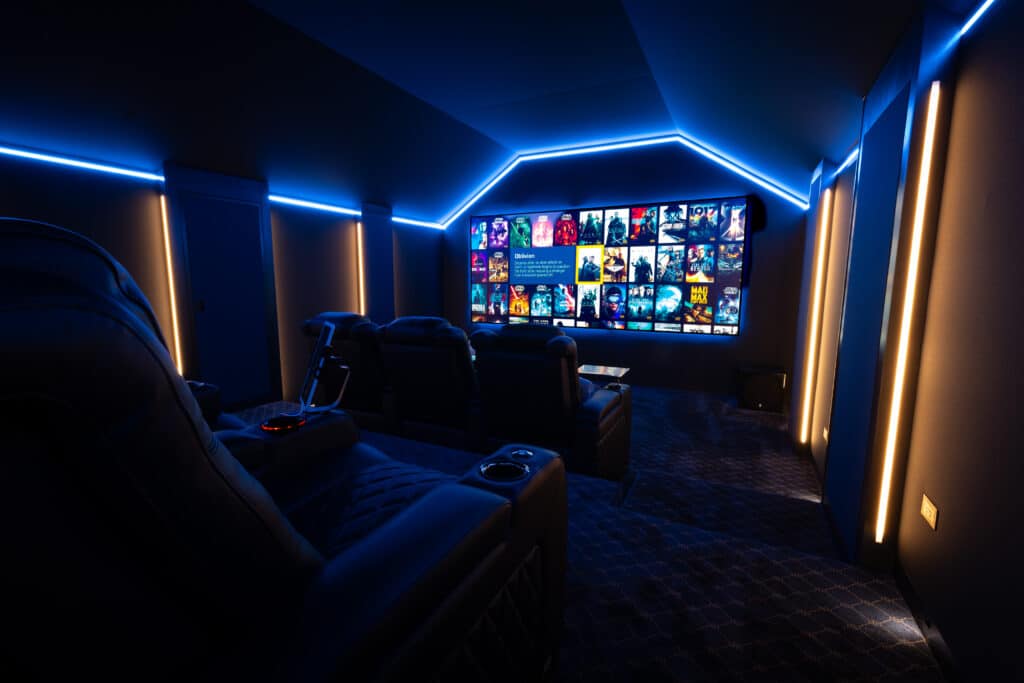 ---
Full Equipment List:
System Configuration: 7.4.2
Visual:
Projector: JVC NZ-7 8K Projector
Screen: 150″ Screen Innovations Zero Edge Pro, Acoustically Transparent
Video Processing: Mad VR Envy MKII Extreme
Sound:
Audio Processor: AudioControl Maestro X7s
Amplification : AudioControl Savoy G4 , Audio Control Pantages G4
Speakers: 7x Focal 300IWLCR , 4x Focal 300ICW8 (Atmos)
Subwoofers: 2x Focal Sub1000F
Everything Else:
Sources: Kaleidescape Strato C, Oppo Blu-Ray, Nvidia Shield, Bluesound Node, and DirecTV Gemini
Control: Nice / Elan SC-100 & Nice HR-40 Remote Control
Lighting: Proluxe COB RGB-W in matching extrusions
Seating: Valencia Theater Seating – Tuscany Ultimate Slim
Fabric: Guilford of Maine Anchorage (Charcoal with Cobalt Accents)
Paint: Tricorn Black