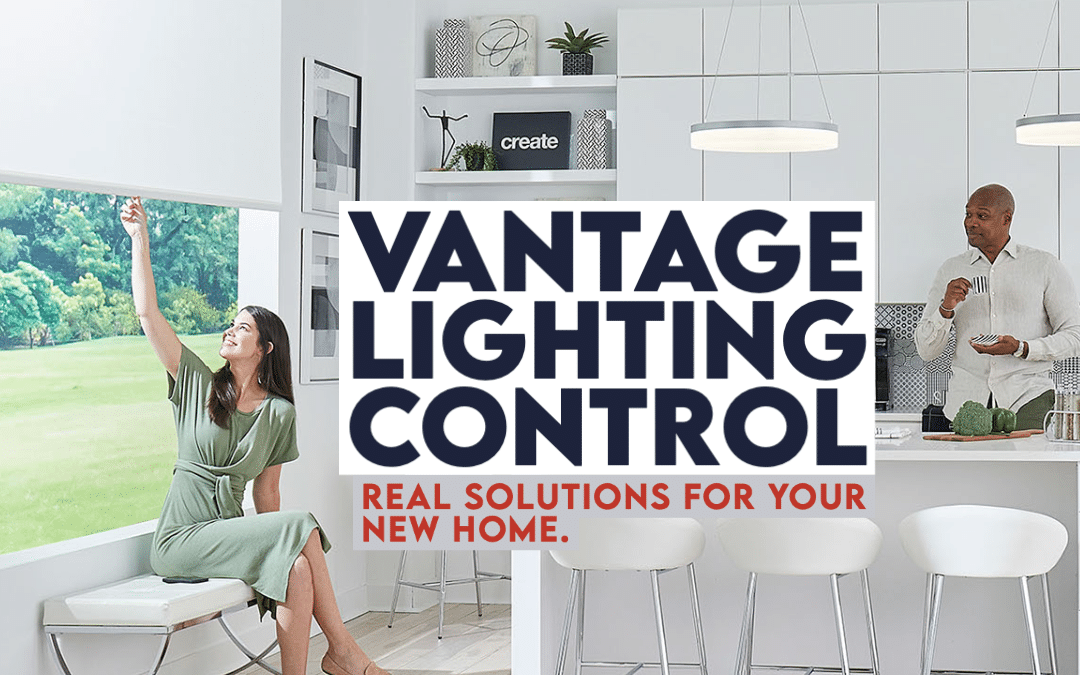 Tip: If you're brand new to the subject of lighting control systems, I'd suggest you start with this article to get a basic idea of what's available.
This post will discuss why you should consider custom lighting control for your home, how much it costs, and why we think Vantage is the best choice for lighting control.
First, let's take a look at why you'd want to choose panelized lighting in the first place.
Table of Contents
---
Eliminating wall clutter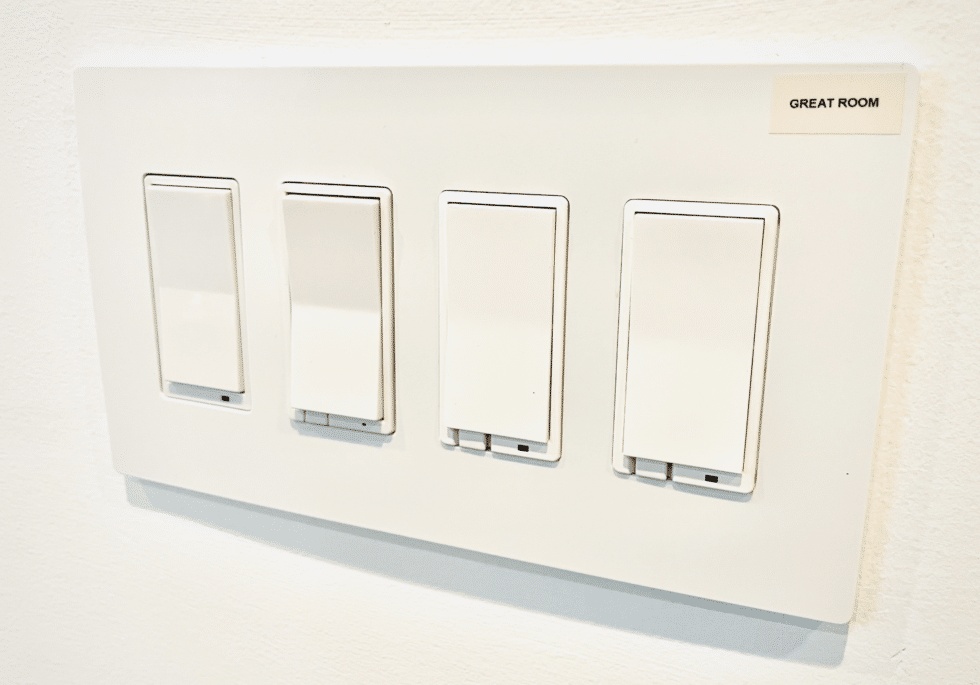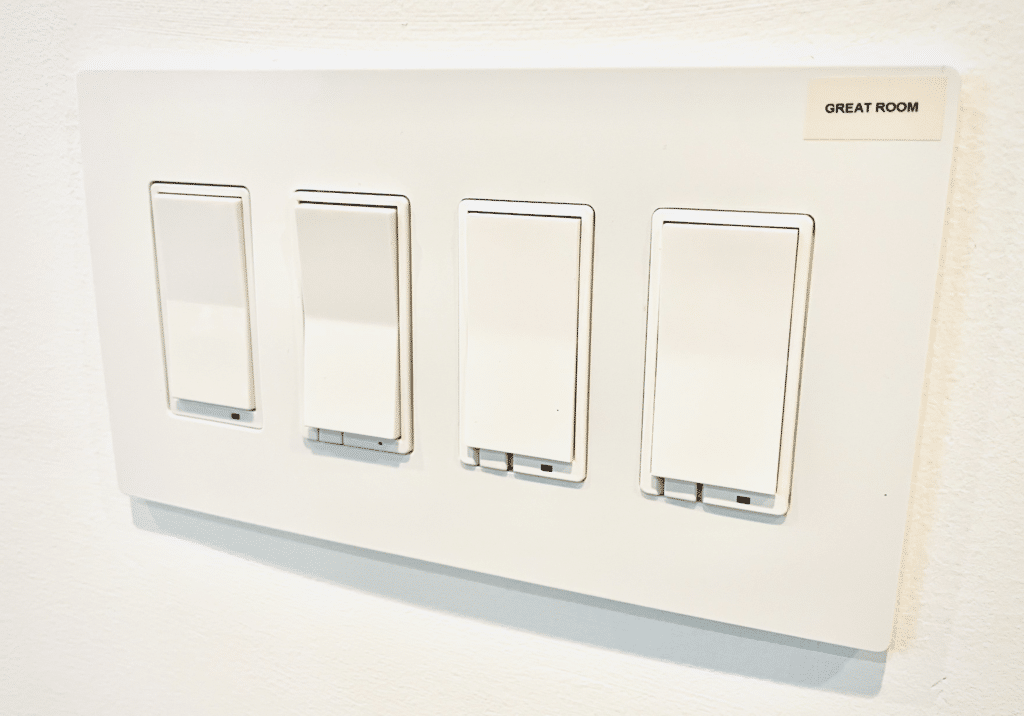 While it might sound a little silly at first, living in a large custom home presents quite a few challenges compared to the average 2400 sq ft American dwelling. We've all become accustomed to walking into a room, switching on the lights, and not giving it another thought, but things are considerably more complicated in a substantial estate.
As the design becomes more intricate, that single light switch turns into three or four switches and can quickly balloon into multiple banks of four or five switches each.
Suddenly you're left trying to figure out what controls what, and your guests don't have a prayer at operating things on their own.
Functionally, it's incredibly confusing, and cosmetically you're just expected to live with the "wall acne" that results.
In most homes, each bank of light fixtures (called a load) is connected to an individual dimmer installed in your wall. For example, you might have a chandelier, two strings of recessed lights, pendants, a ceiling fan, a lamp, etc. Each load is controlled by its own dimmer that's installed in the wall, and it doesn't take long to see how the wall clutter starts to build up.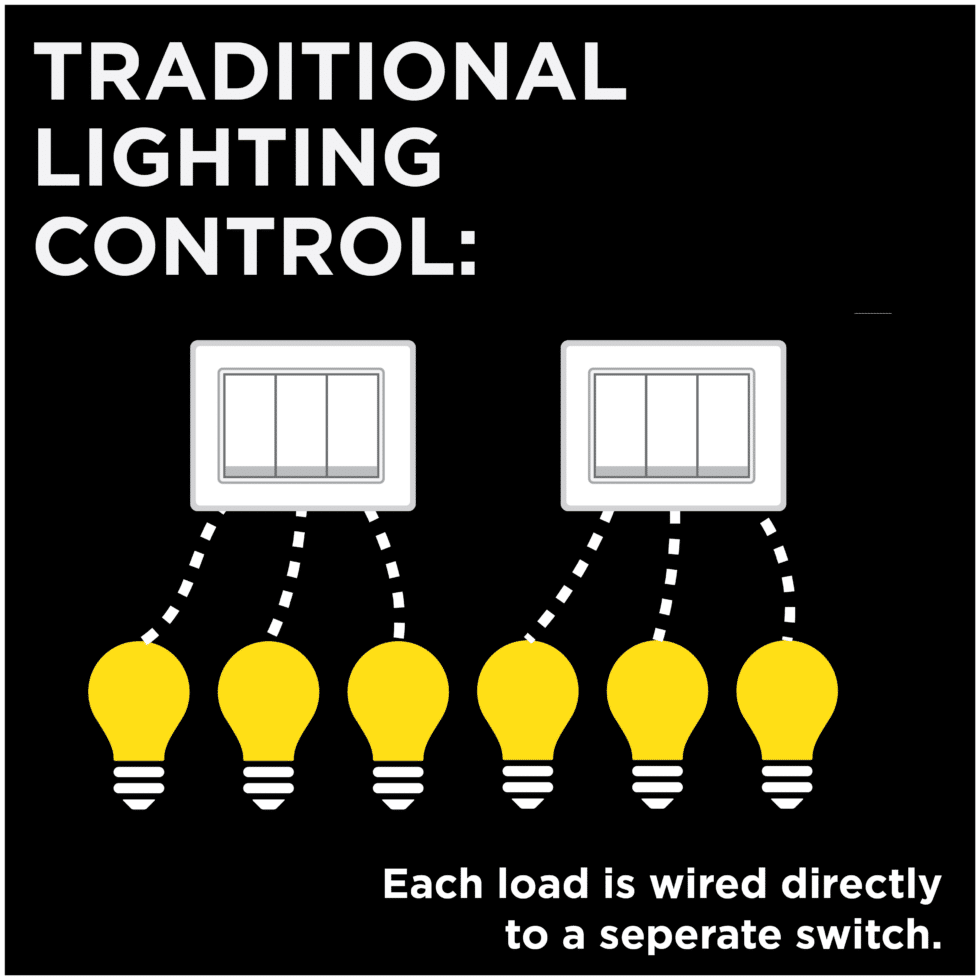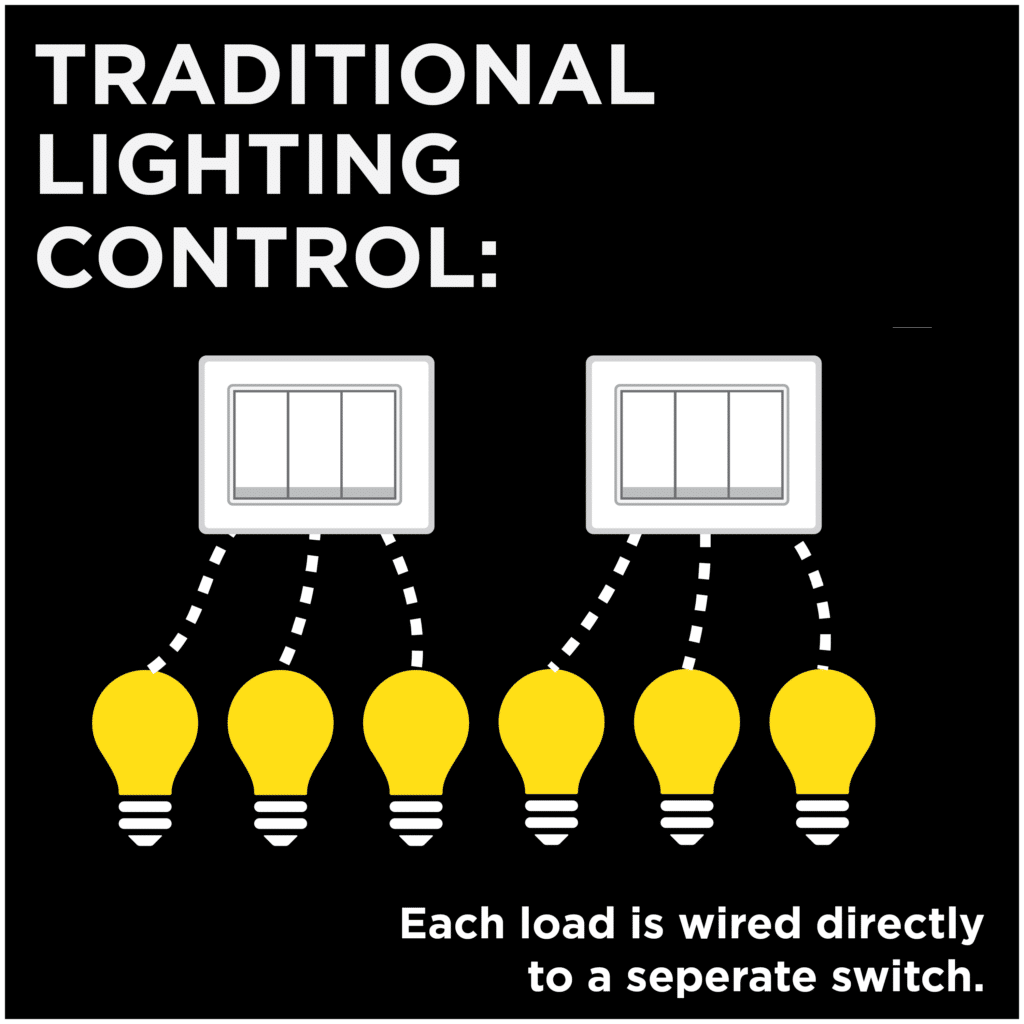 As the room's size increases, this problem only multiplies.
Panelized lighting offers an elegant and unique solution to this problem…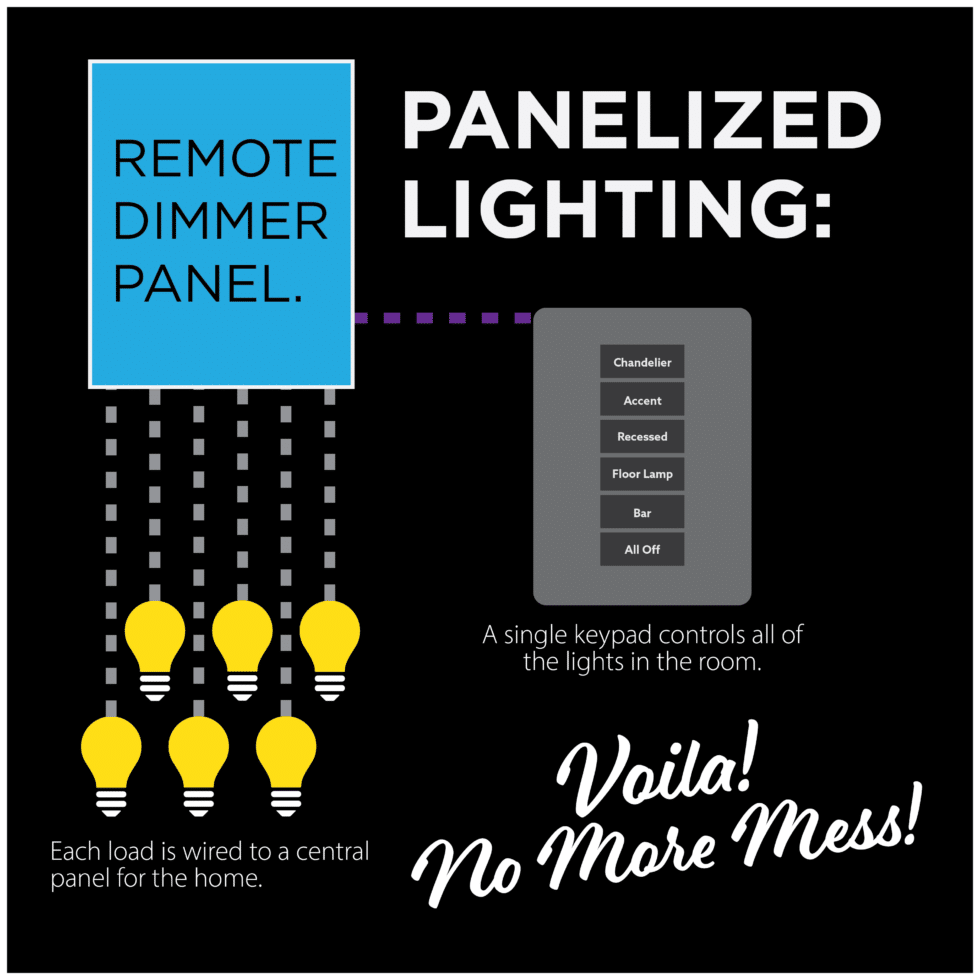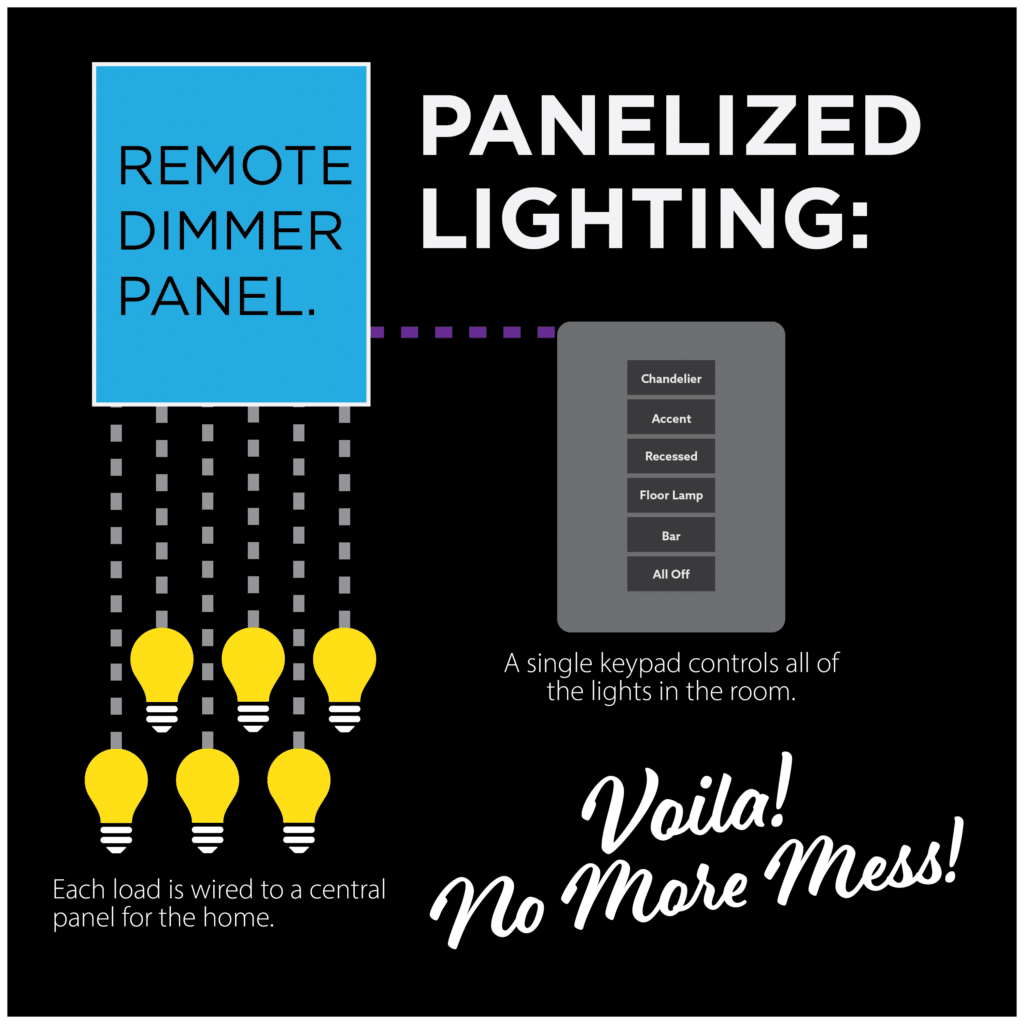 Rather than placing all the wiring and dimming hardware in the room, each load is pulled back to a centralized location or "panel" and then controlled by a compact keypad installed in each room.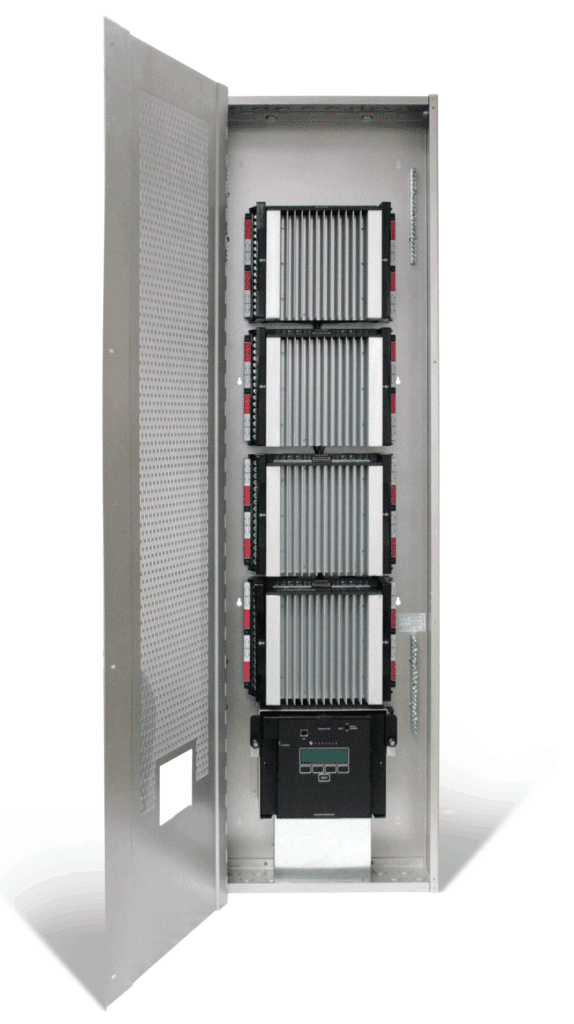 These keypads offer up to 8 buttons to control individual fixtures, or your system can be programmed to control multiple loads with a single button.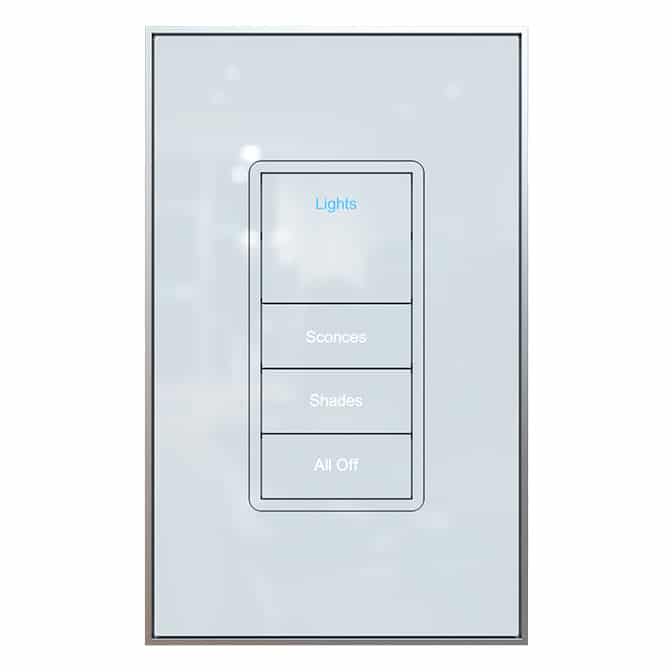 Each button is custom laser engraved with text to explain its function. The possibilities are endless, but the result is magical.
---
True custom design options
When you're investing in your dream home and undoubtedly obsessing over every detail with your designer. You shouldn't have to spoil your design or be limited to switches that are only white, almond, or black.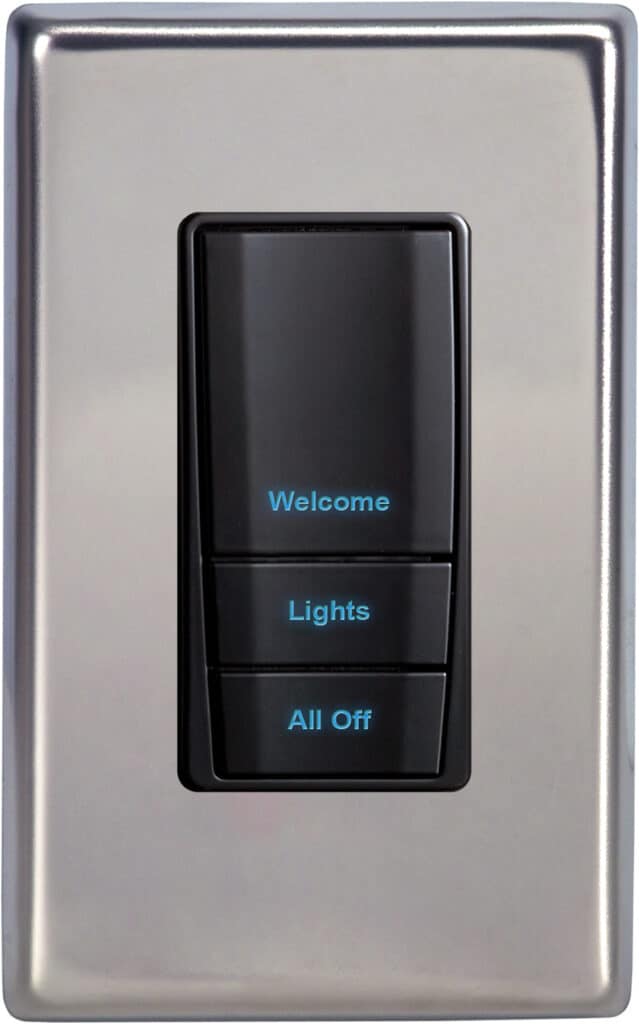 Vantage gives you a vast selection of color and material options and can even custom match trims to any Sherwin Williams paint code.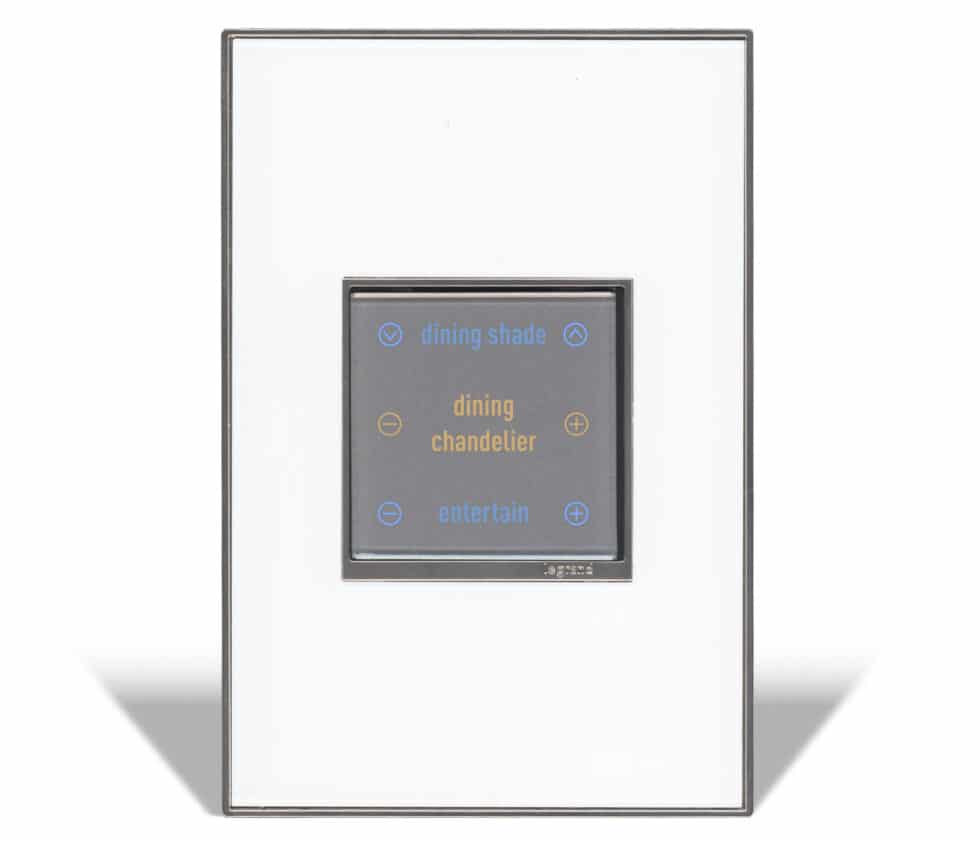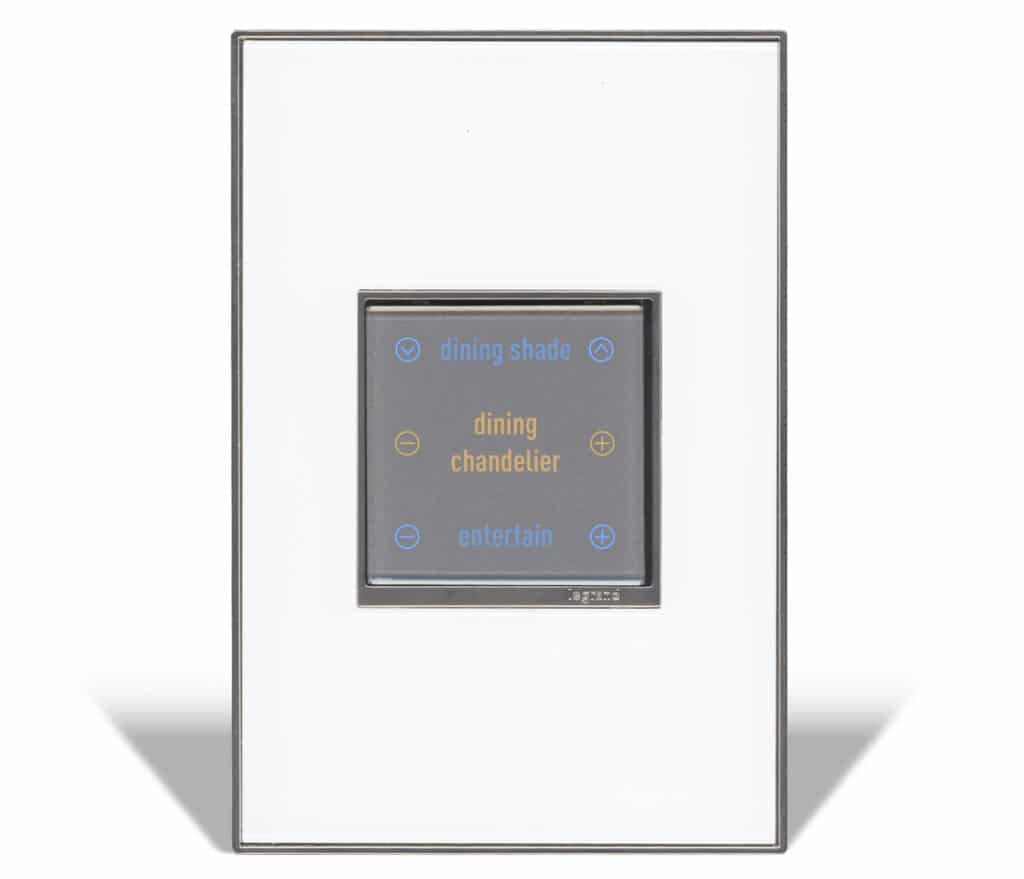 You can even carry these cosmetic choices across your regular power outlets for a refined and consistent look.
Light switches are something we use over and over every day; why not make them beautiful?
---
Automation & Integration
Lighting control is one of the key components of what makes up a "smart home". Fortunately, the Vantage solution integrates perfectly with home control systems like Elan. This allows us to control every light in the Vantage system from within our Elan app or touchpanels right alongside the other features in your home like Video, Audio, thermostats etc.
Scenes like "Party Mode" or "Movie Time" let us bring everything together by setting the mood with the perfect lighting, turning on the music, and even starting up a movie.
---
Effortless Energy Savings
When something is annoying or hard to use, most people just tend to avoid the activity. In a larger home with 50+ light switches or even multiple wings, this often adds up to lights just being left on rather than spending 15 minutes making the rounds to ensure everything is properly switched off. With lighting control, we're able to eliminate that task and make things easier in two ways.
The first is we can provide lighting scenes that simplify things dramatically. A button labeled "all off" is installed at your main points of entry. When you press this button just as you'd expect, everything in the house turns off in one motion.
The second way is the use of schedules and motion sensors. We can schedule groups of lights to turn on and off based on the sunrise or sunset. For example, You probably won't need your landscape lights during the middle of the day or mood lighting flipped on at high noon, but you might want to come home to a safely illuminated driveway after dark. This can both make your home more inviting and create some substantial savings on your power bill.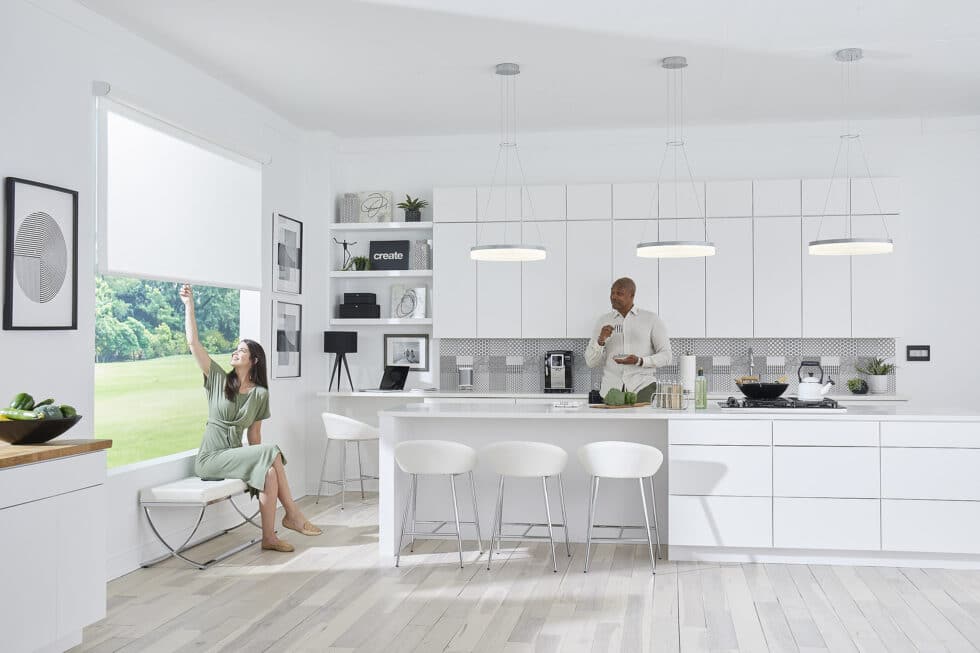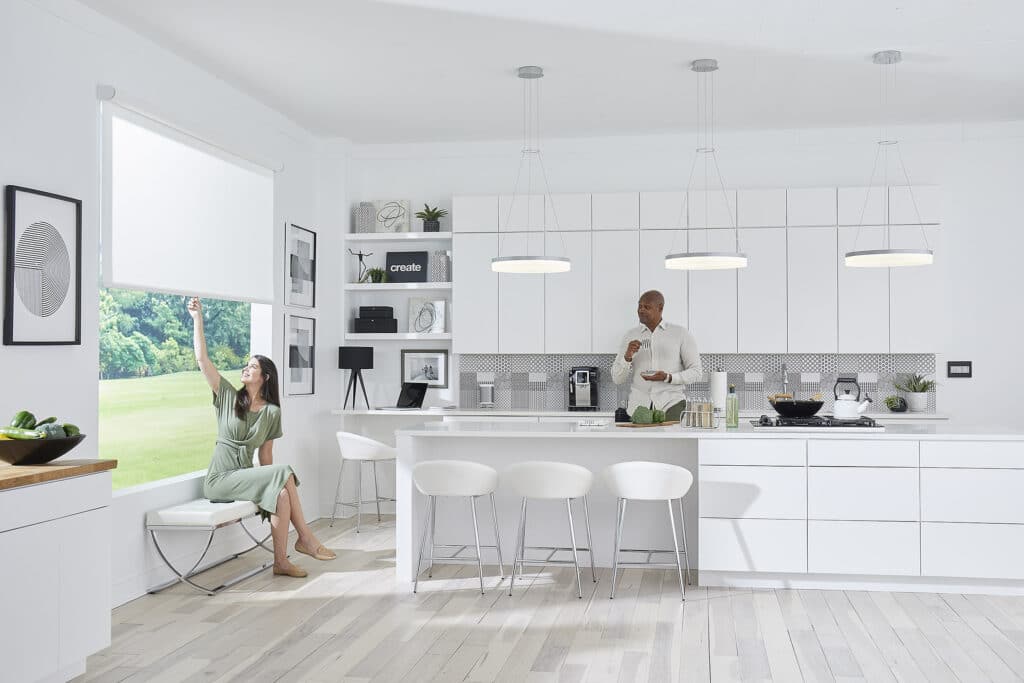 You can also incorporate tiny motion sensors and door switches. Using these sensors allows you to turn lights on and off just by walking in and out of a room or opening a door.
---
Do you have questions or want to find out more about lighting control systems? Don't hesitate to reach out, we'd love to talk to you about your project!
---
F.A.Q.
How much can I expect to spend on lighting control?
Panelized lighting certainly carries a premium over traditional switches and dimmers, but it's not as expensive as you might think. In general, a cost increase of about $4 per square foot is a good rule of thumb, but that number decreases as the size of the system grows.
What type of finish options are available?
White, Bronze, Black, and Titanium finishes are available as standard, but the sky is really the limit. There are additional premium options like Silver, Gold, Oil-Rubbed Bronze, and Chrome, as well as the custom color matching program.
Does this work as part of a home automation system?
Yes! That's one of our favorite parts of panelized lighting. When paired with a home automation system like Elan, panelized lighting offers all kinds of possibilities.