Shelter in Style
If you've noticed some changes in the weather in the South recently, you're not alone. The number of severe storms and tornados striking Nashville and the rest of Middle TN has dramatically increased, resulting in a surge in storm shelter construction. While practically speaking, a storm shelter is a great thing to have; these spaces are often only used for a few hours a year.
The story of this build begins when our client approached us with the desire to reclaim his shelter space as a proper home theater while taking full advantage of the acoustic isolation provided by the 12″ thick poured concrete walls.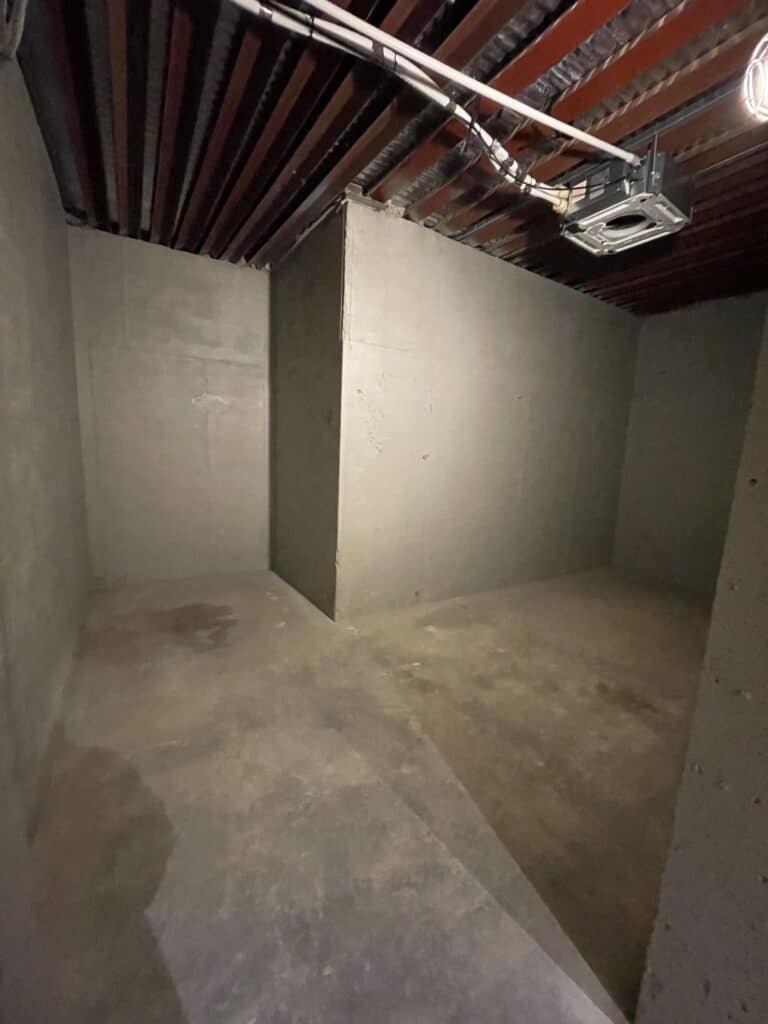 Home Theater in a (Concrete) box
With a pre-build width of only 96″, space was at an absolute premium. A design requirement of having at least five fixed seats led us to create staggered wall depths in each section of the theater to help squeeze both the seating and speakers in.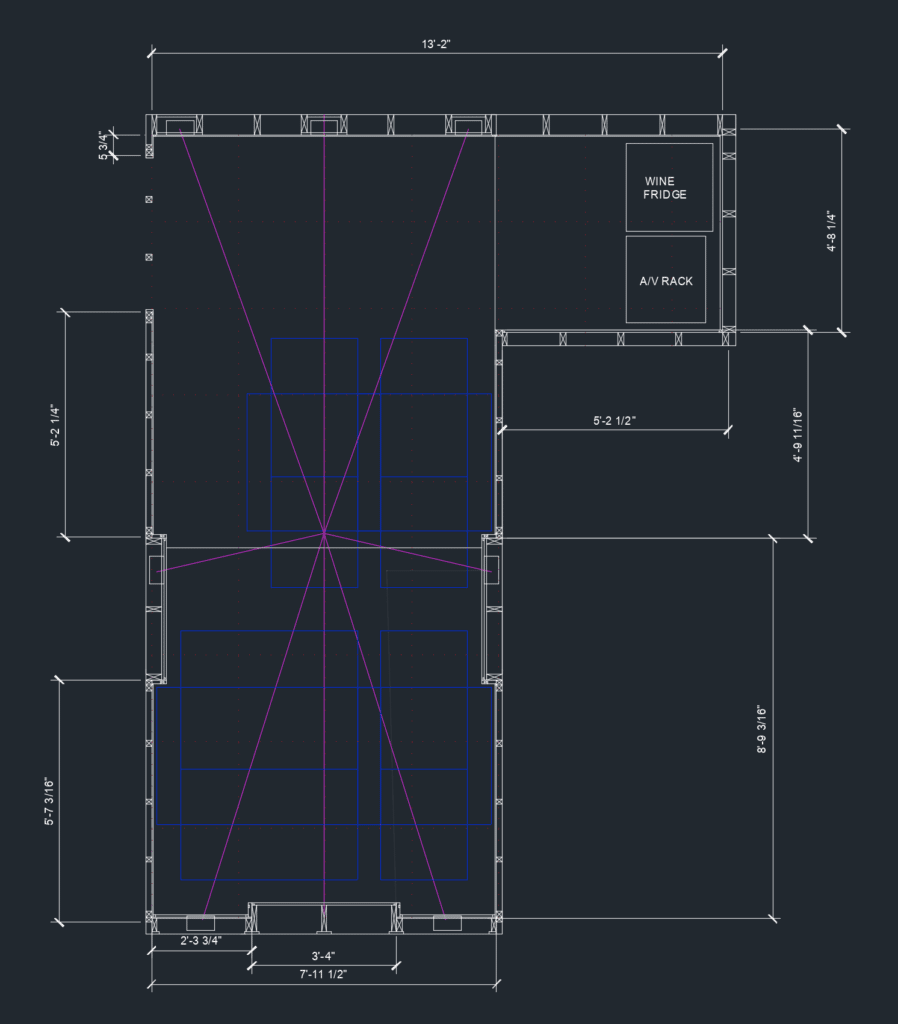 This layout opened the door to employing varying types of acoustic treatments and bass trapping while at the same time creating some visual interest through the use of diffused LED accent lighting.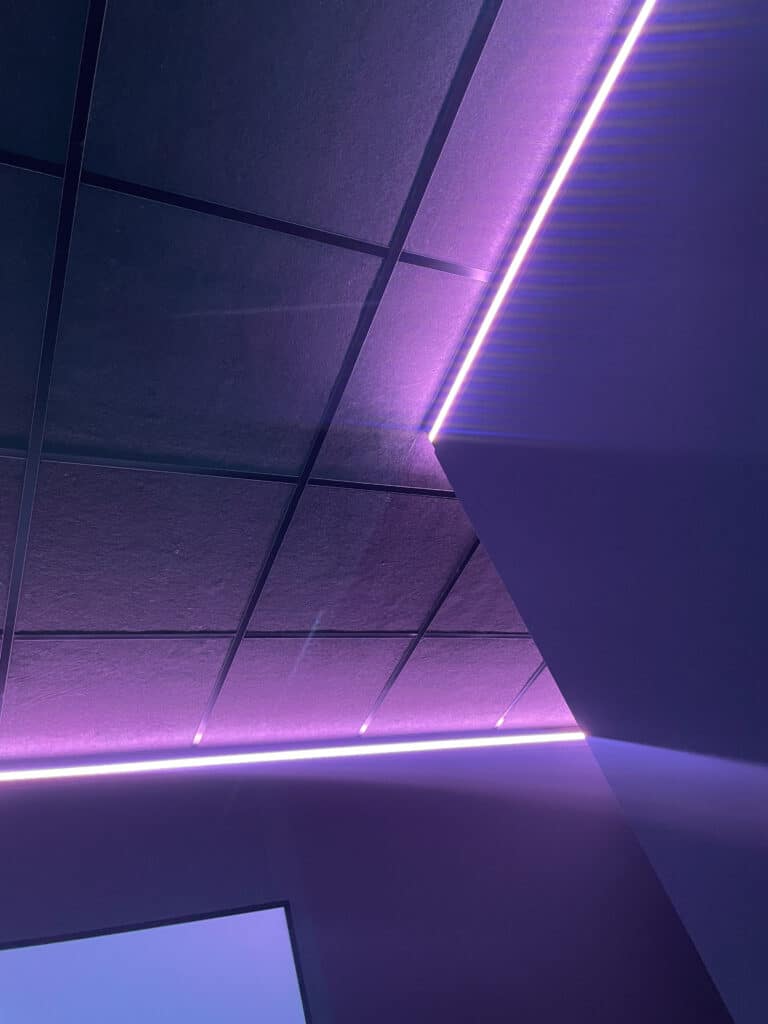 The crown jewel of the build is a 104″ acoustically transparent projection screen by Screen Innovations. It's paired with a light blasting HDR projector from LG that makes high-impact viewing possible, even with the lights on.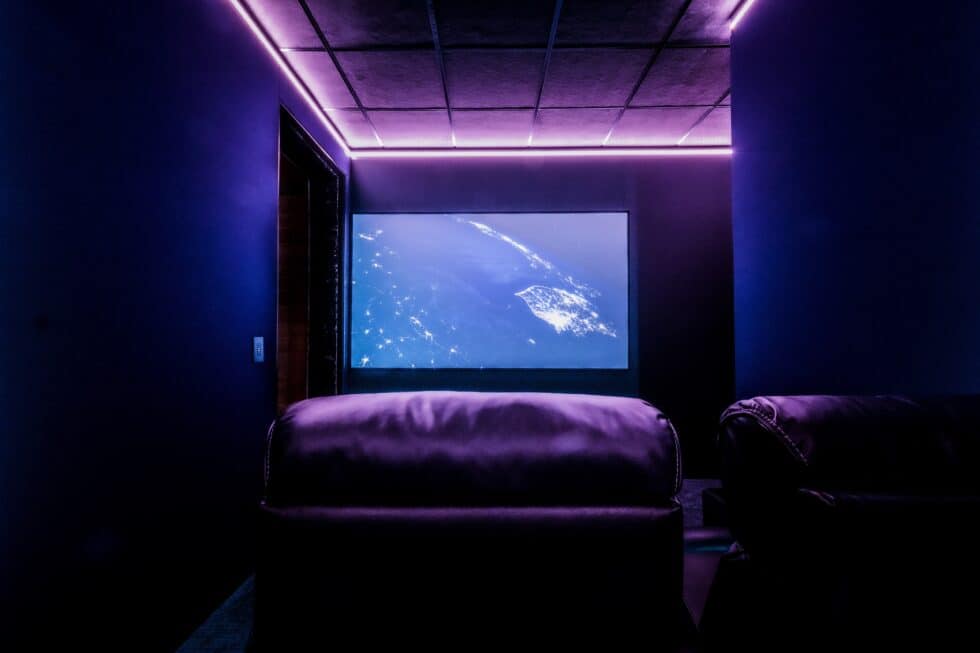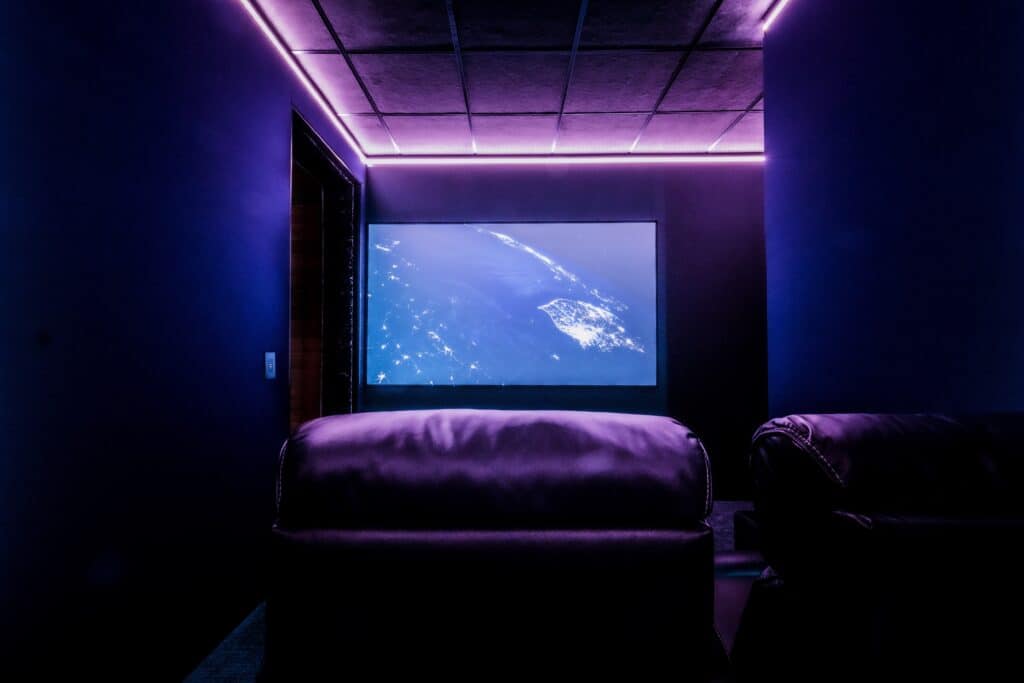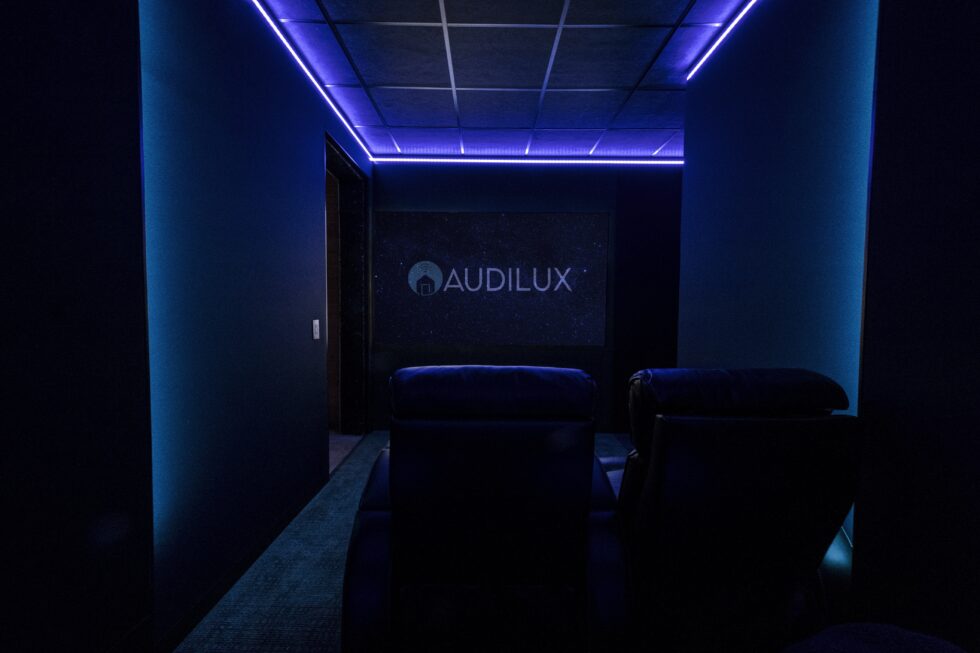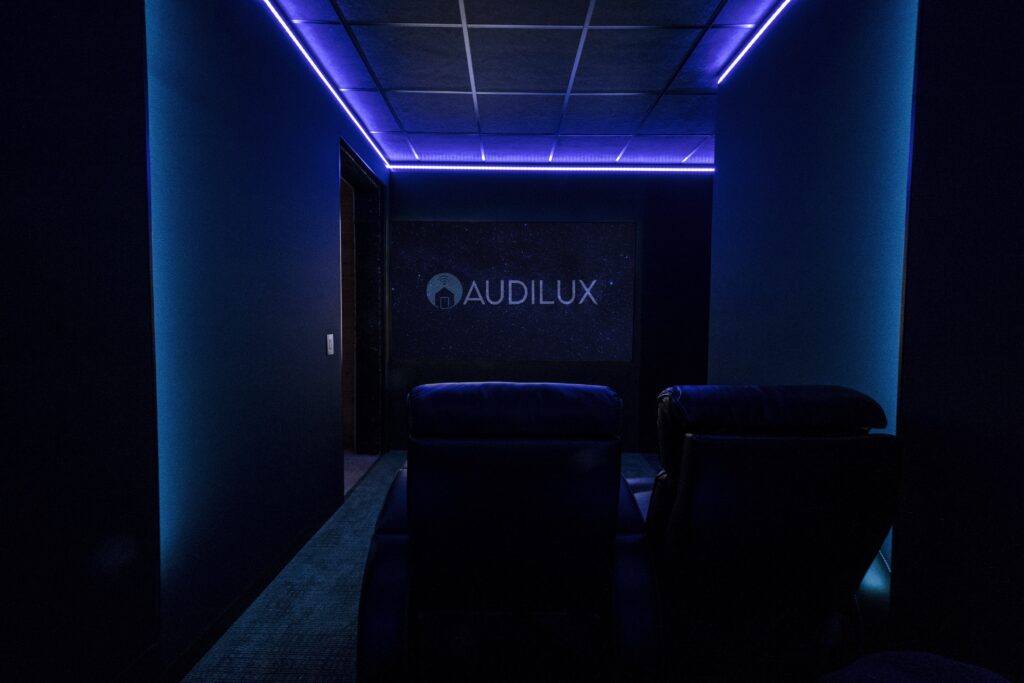 The room's soundtrack is voiced by a full accouterment of seven 300 Series in-wall speakers from Focal. All of which are stealthily concealed behind the screen or in the walls around the room.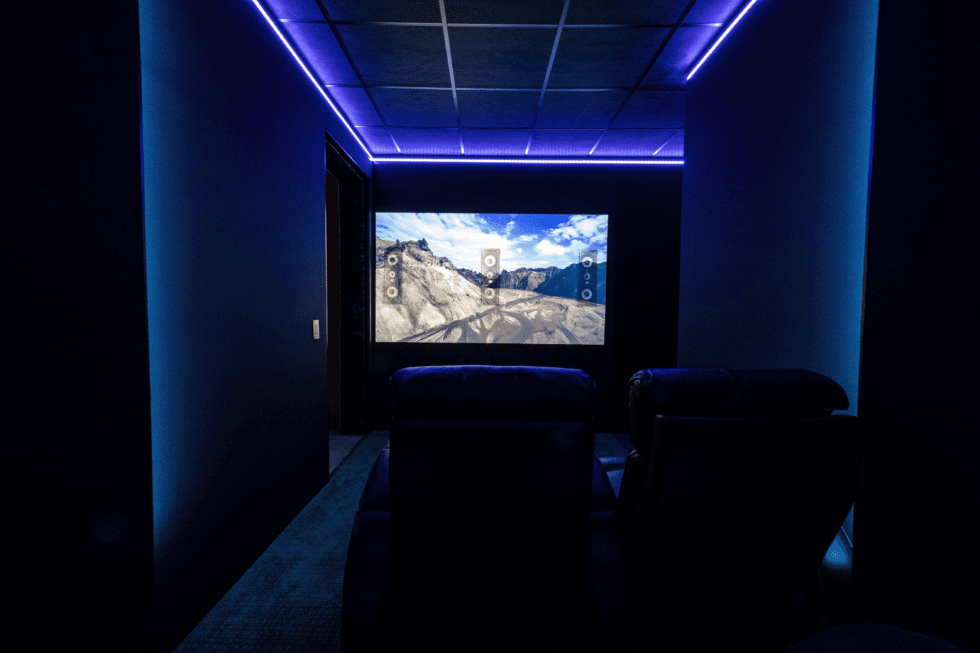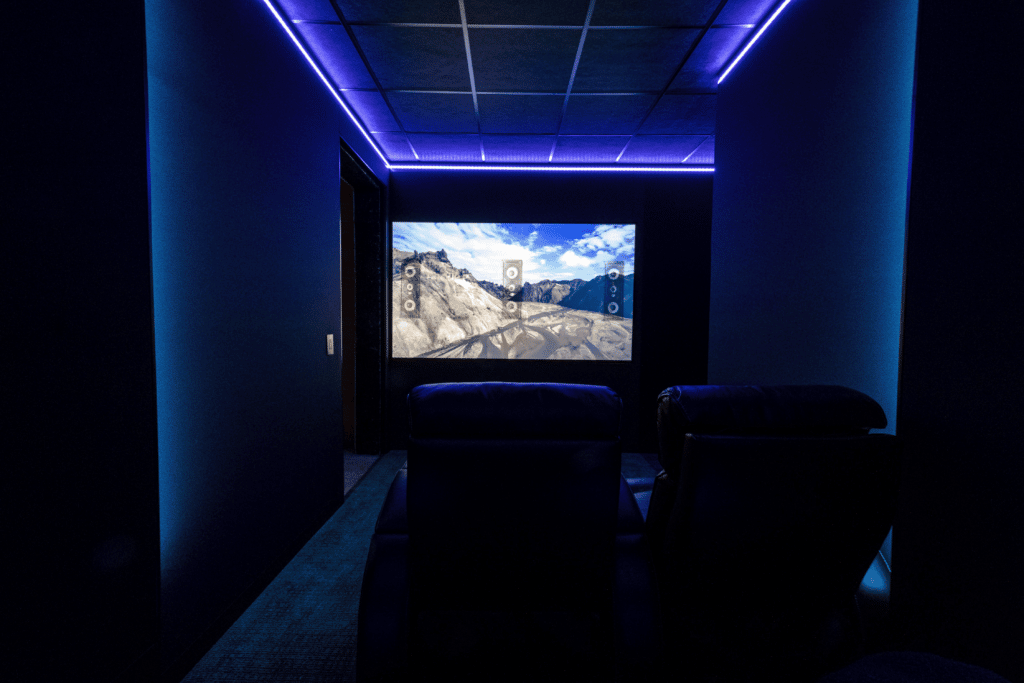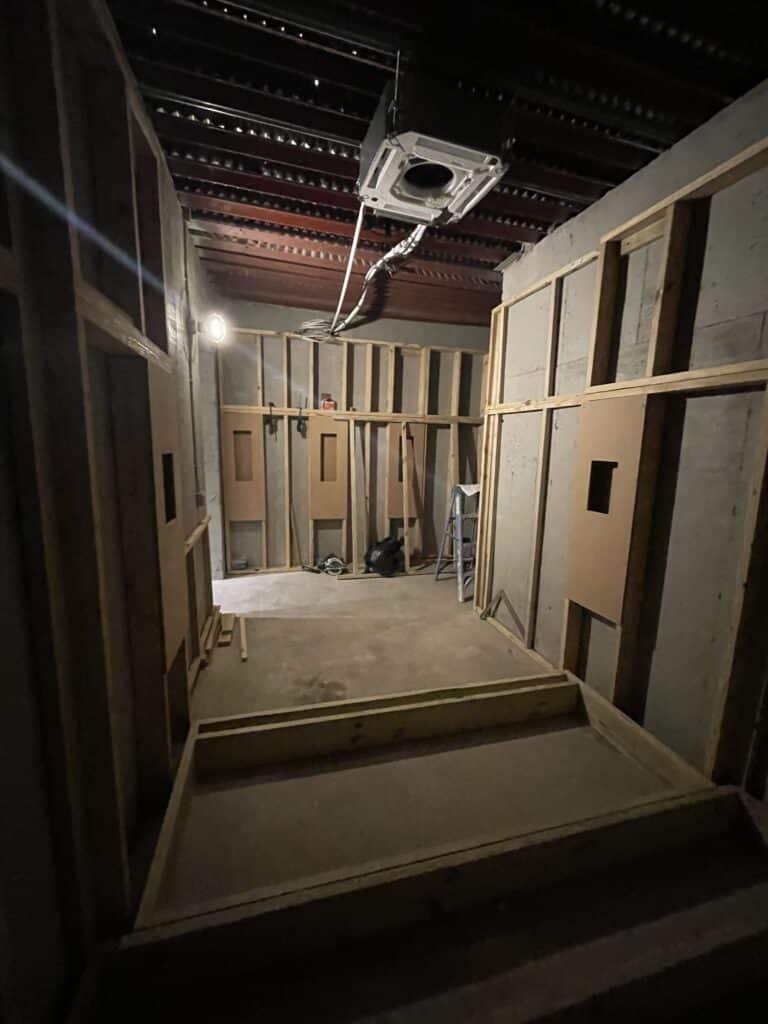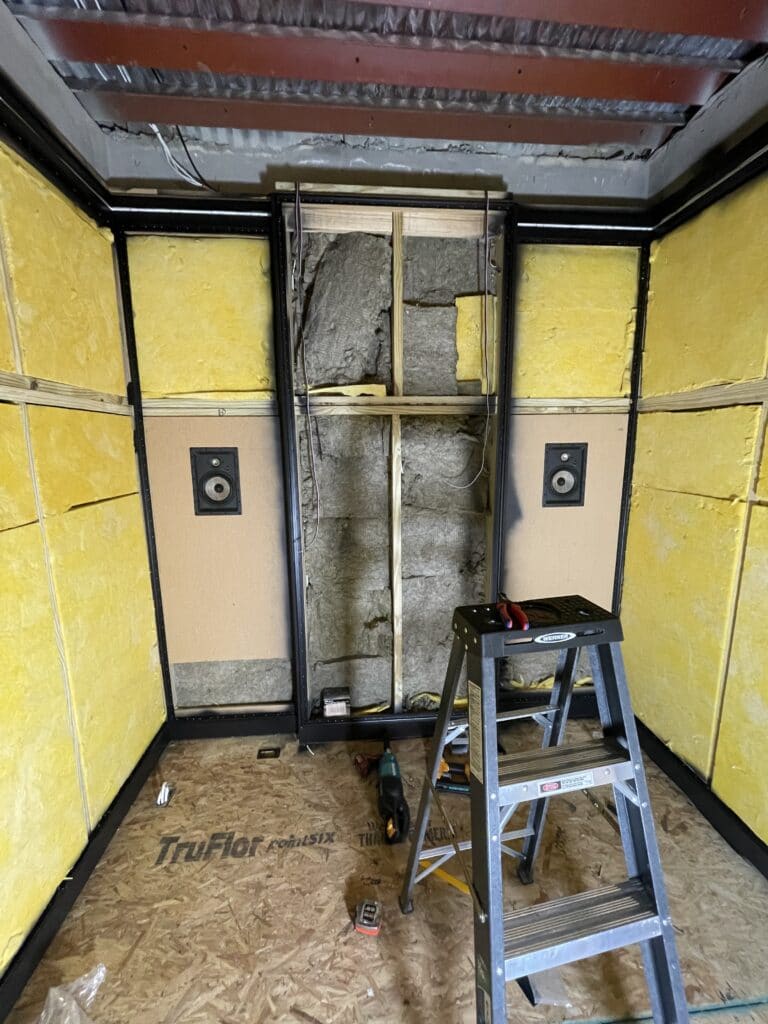 We wanted to find a way to provide illumination that would be fun but at the same time not distract too much from the theater's prime directive. Several scenes were created including one inspired by "Stranger Things" (my personal favorite).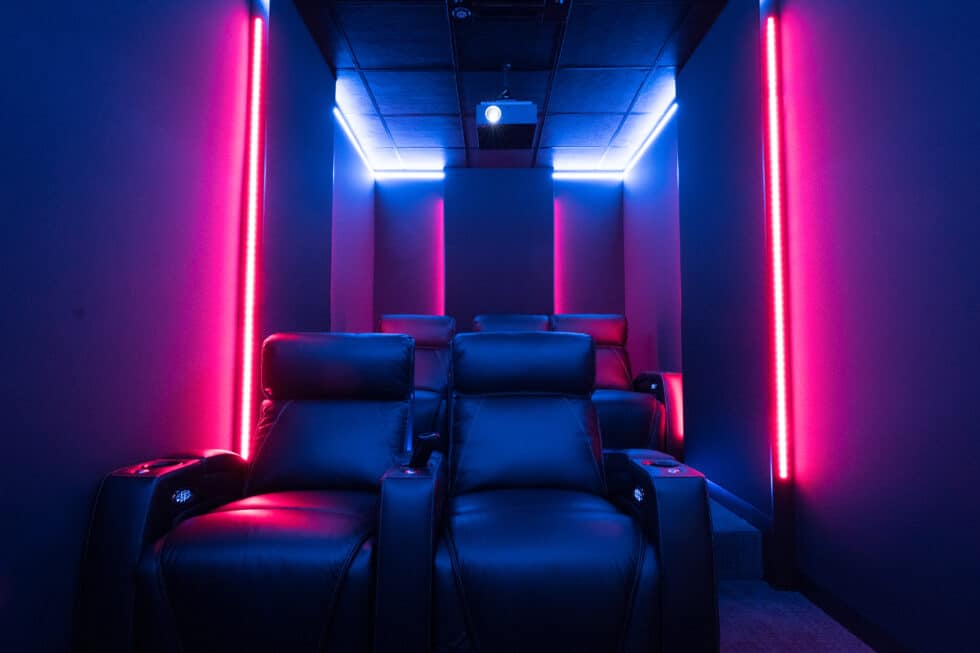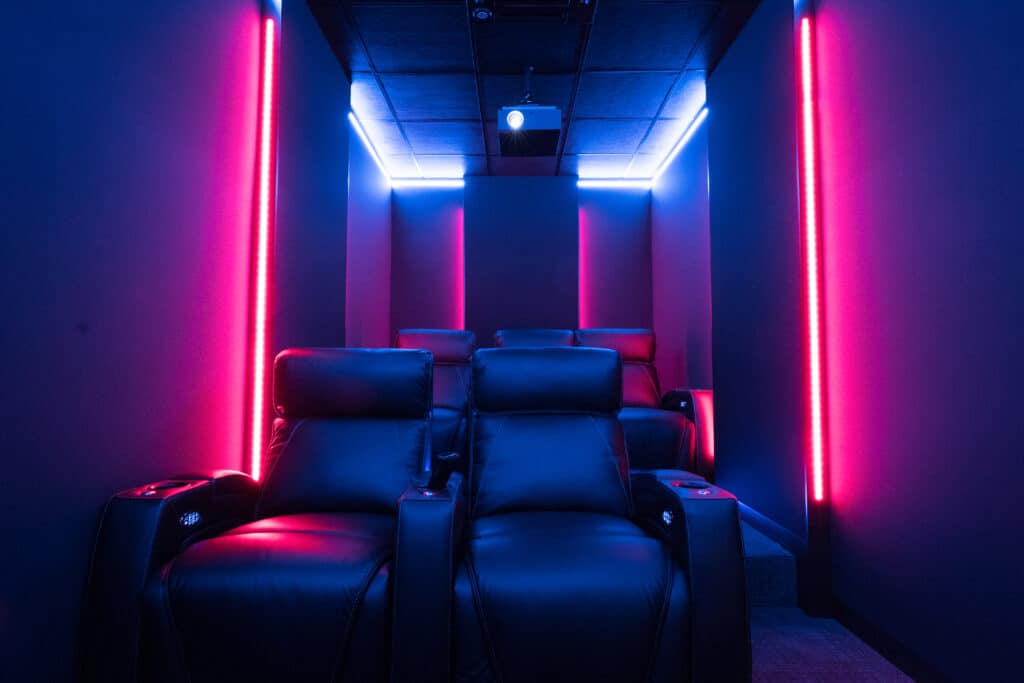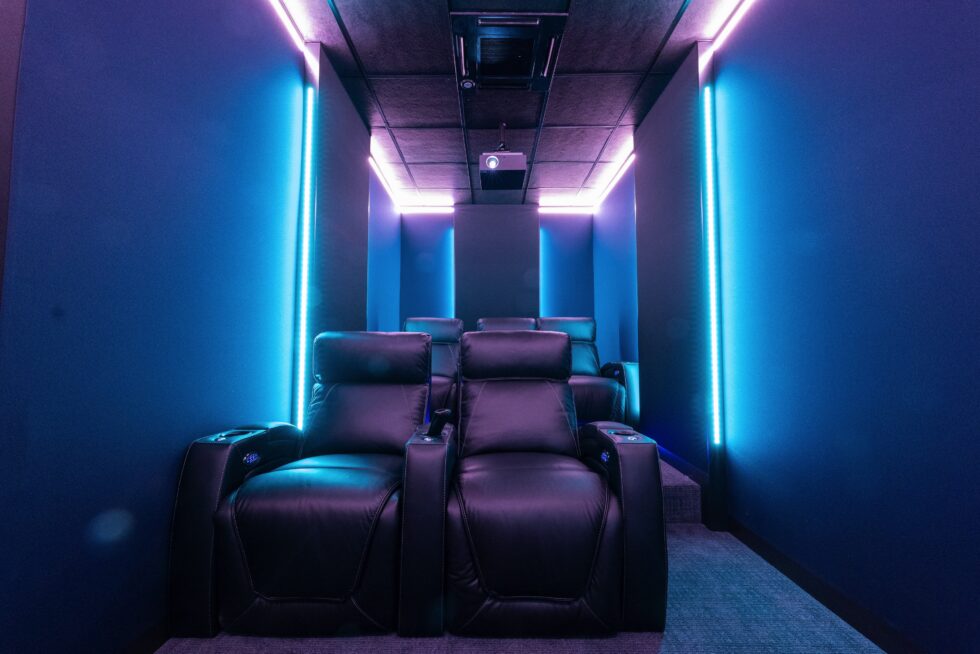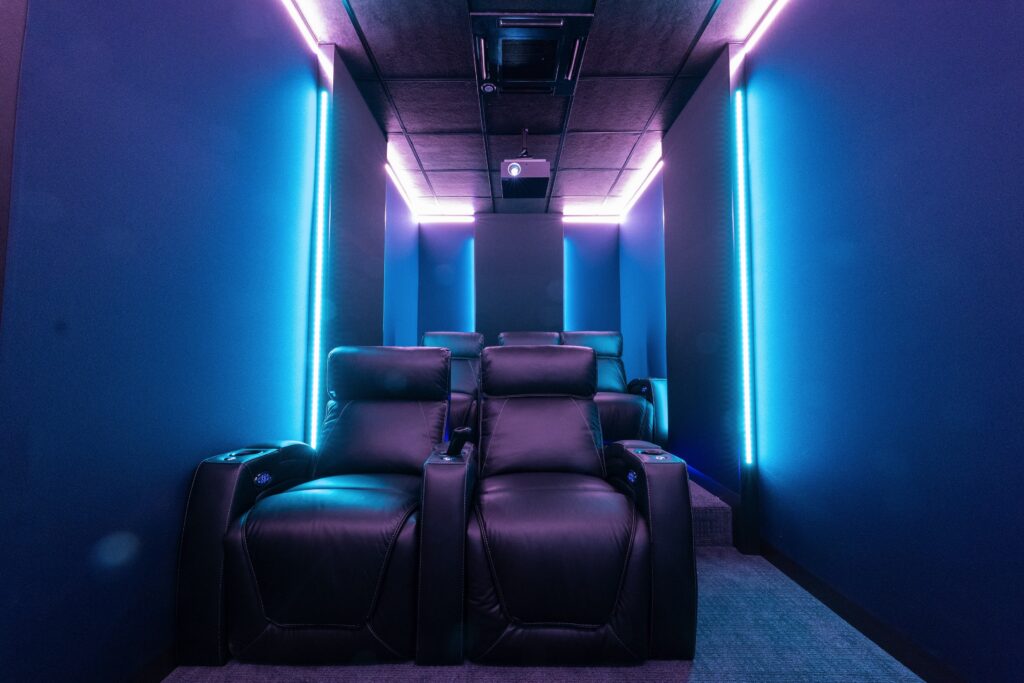 Our client chose a fully motorized option for home theater seating by Octane. Trimmed in top-grain leather and equipped with USB power outlets, underlighting, and plenty of storage, these home theater chairs make it easy to settle into a movie or binge your favorite show.
Lights can be controlled by the keypad on the wall or even turned on and off individually with the Elan remote control.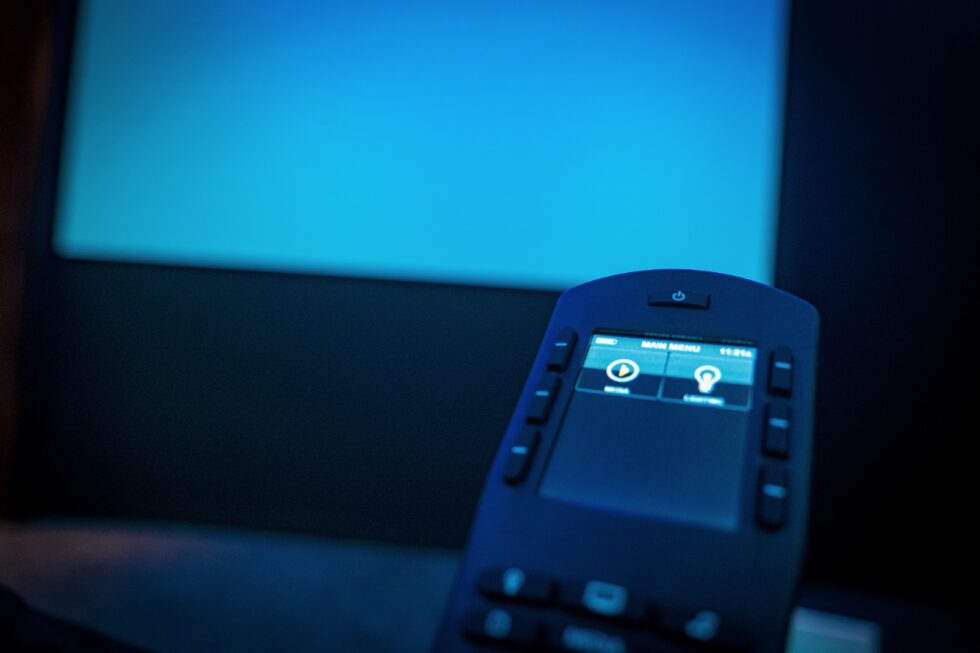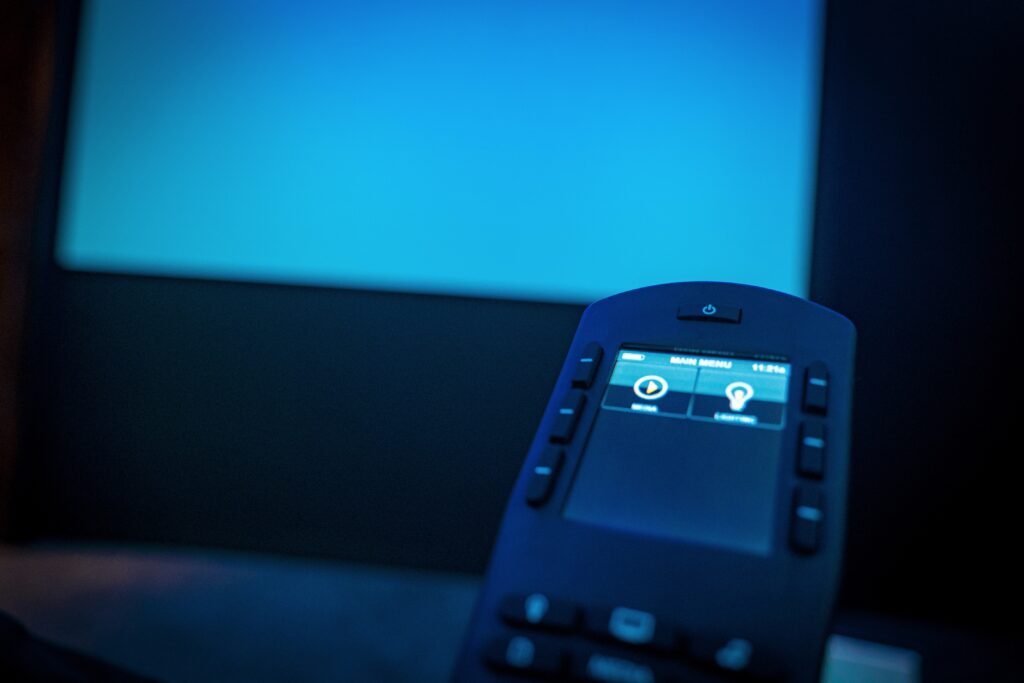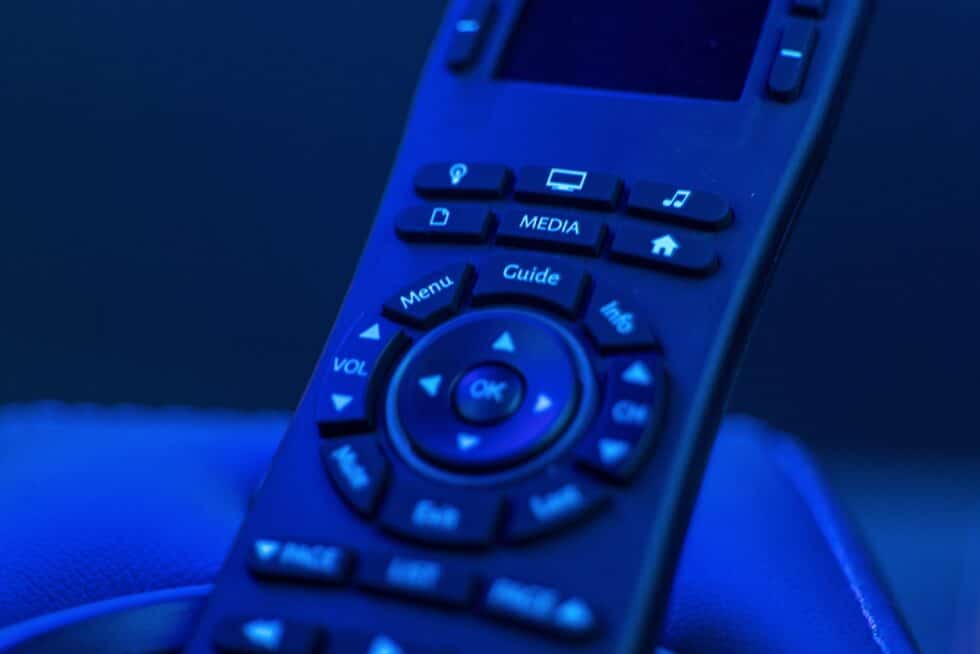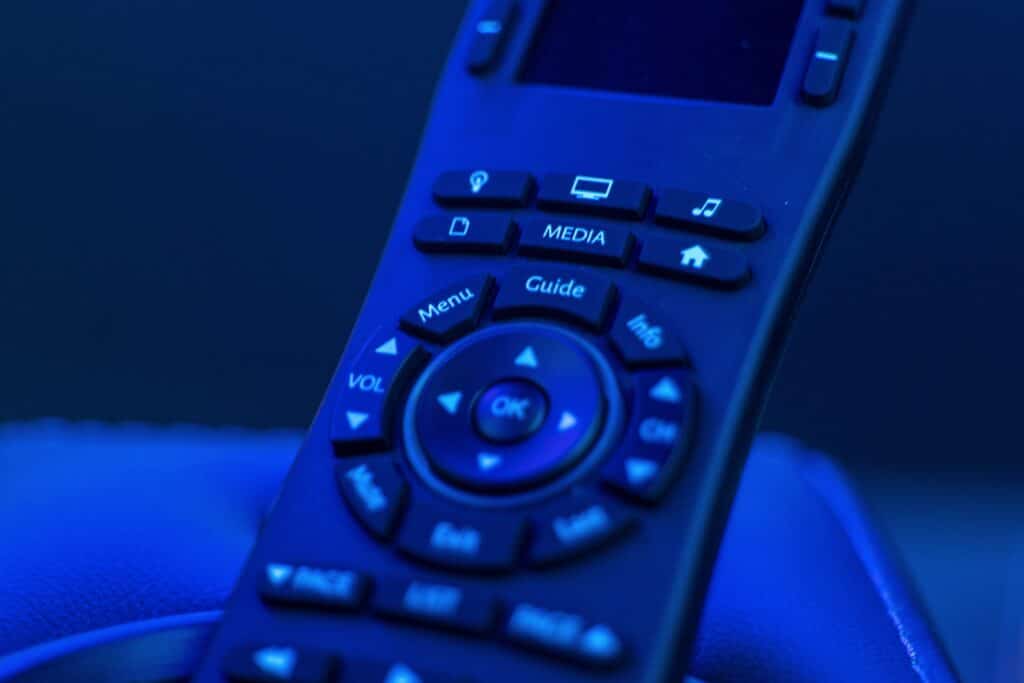 ---
The Shelter Theater: Details & Specs
AUDIO:
Speakers: Focal 300 Series
Mains: Focal 300 IWLCR6
Surrounds: Focal 300 IW 6
Subwoofer: Speakercraft HRSi-12
Receiver: Yamaha Aventage RX-A4A 7.1 Channel Receiver
VISUAL:
Screen: 104″ Screen Innovations Zero Edge Pro (Acoustically Transparent) with Pure AT Material
Projector: LG AU810PB 4K DLP Projector
CONTROL & Core:
Elan HR-10 Remote
Elan KP7 Keypad for lighting control
Panamax MR4300 Power Conditioner
Luxul AV Series POE Switch
DESIGN ELEMENTS:
LED Lighting & Extrusions by Proluxe
Wall coverings by Guilford's of Maine
Seating by Octane Seating
Custom Trim by Audilux