The process of working with a home technology integrator or AV company on your new home can seem daunting. So much so that even many builders avoid getting involved in the process altogether. While they have an entire army of subcontractors for pretty much anything else, when it comes to technology, you're lucky to get a shortlist of contractor recommendations. Usually, you are sent off on a harrowing pilgrimage of discovery with nothing more than a prayer that you'll find a trustworthy soul to enlighten you along the way.
Education is an essential part of our job. If you've never had the opportunity to build a custom home before, chances are you might not be aware of the technology that exists, and we try to at least inform you of all of the possibilities. While some things may not ultimately be in your budget, the worst thing that could happen is to find ourselves in a situation where we didn't mention a product or solution, only for you to hear about it later when it's too late to include it.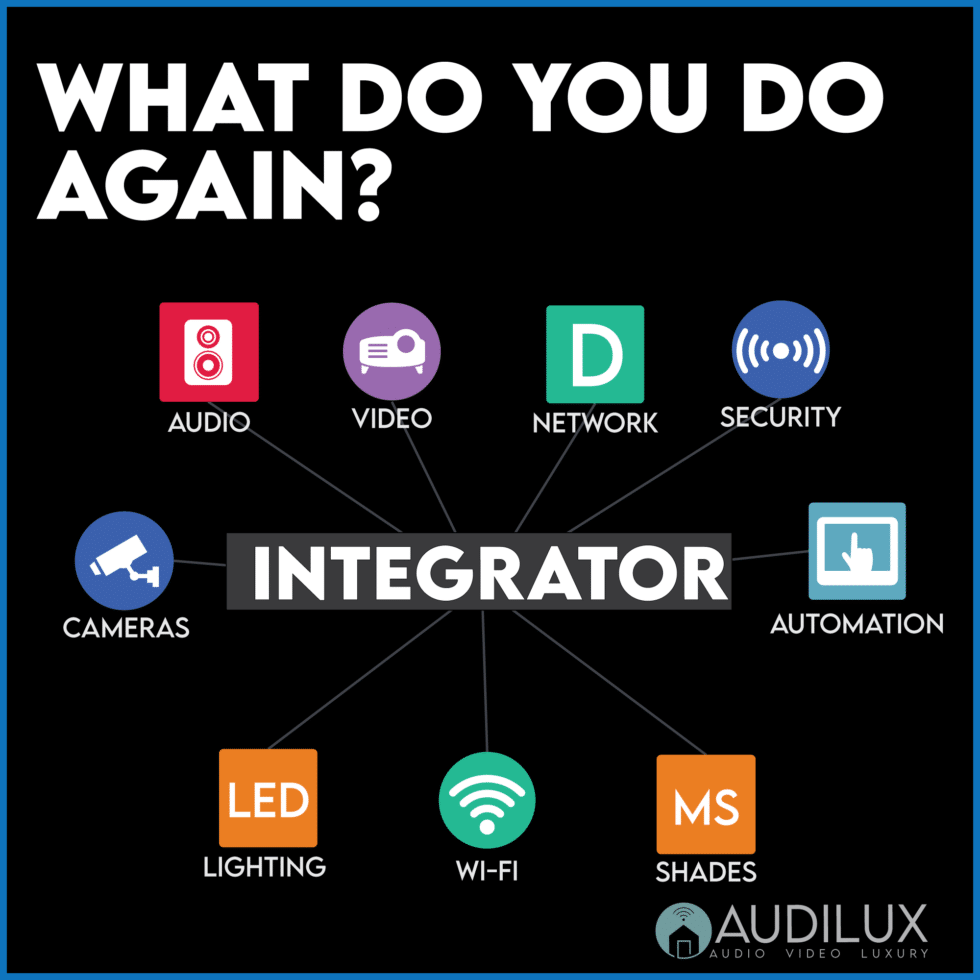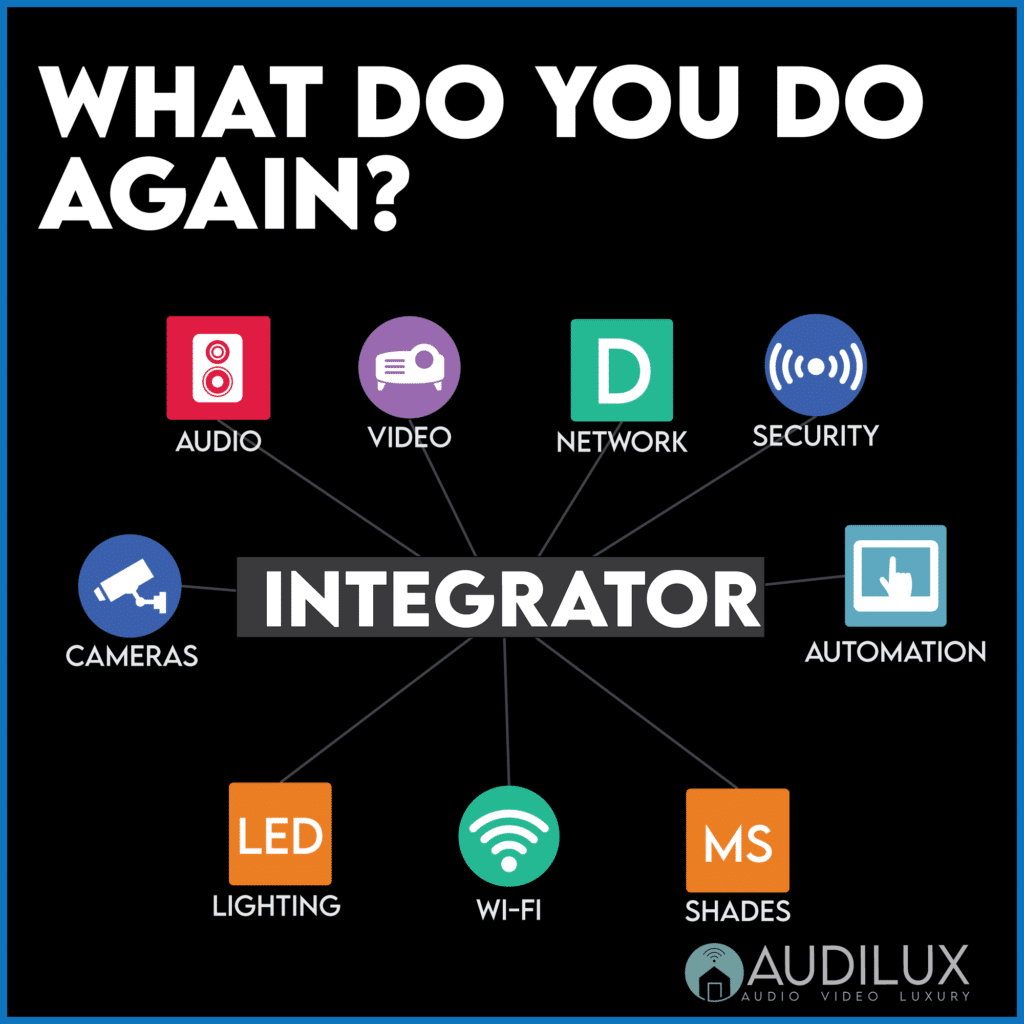 As integrators, we wear a lot of hats and can be involved in nearly every facet of the design of your home. If it's not plumbing or basic electrical, there's a chance you've entered a corner of our Pandora's box. Whether it's things that immediately come to mind like AV, home theater, and Wi-Fi, or more leading-edge systems like motorized shades, lighting control, and home automation, the possibilities are dizzyingly endless. Unfortunately, over time, we found there was so much scope to cover that most people didn't completely understand what they were getting, let alone exactly where anything was going.
---
BACK TO THE DRAWING BOARD
When we first started the process of rethinking the template for our proposals, I was surprised to see there were no off-the-shelf options for making presentations to clients easy and understandable. So, with a background in graphic design, I decided to invest the time (which admittedly was an easier decision to make during the early days of the pandemic) and create an entirely custom set of icons and graphics that more effectively convey the design of our projects.
The main goal of this investment was to make sure people could easily see what was going where. This approach goes a long way towards ensuring clients understand what to expect when their home is complete and hopefully helps avoid some of those "I didn't realize this is what you were talking about" moments.
While you don't have to worry about how any of the magic works, I think it's critical to provide a clear visual picture of where things are placed throughout the home. We got lots of feedback along the way from clients and family and have further streamlined the process as we've gone along. For example, each system is color-coded on the pricing proposal, matching our plans' icon coloring. So if you see a blue security camera listed on the proposal, it makes it easy to look across and locate exactly where that piece is.
---
A fresh take on TeCHNOLOGY PLANS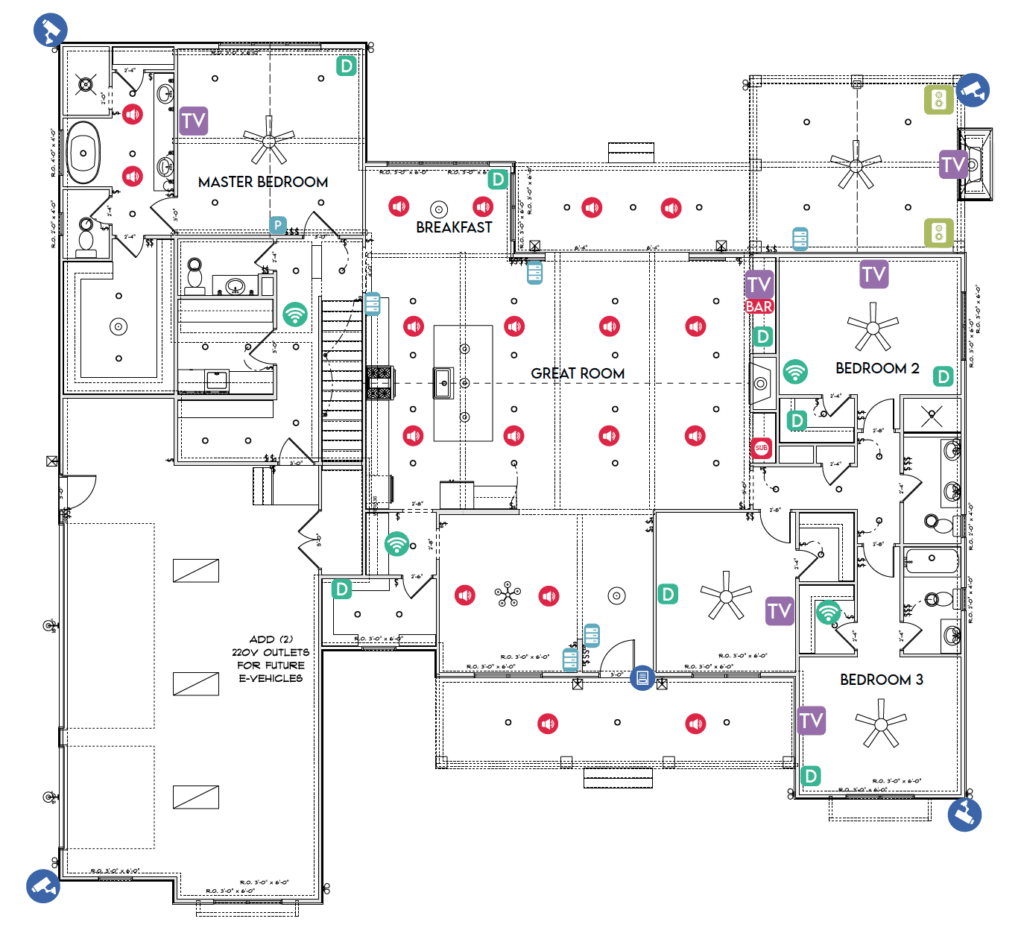 At this point, we've ended up with an entirely new process for presenting proposals that I feel provides plenty of easy-to-consume information. At the same time, it doesn't require an electrical engineering degree or honorary Geek Squad nametag. When clients understand what they're looking at, they can provide meaningful feedback and ask questions that help make us more effective members of your team. It's been a worthwhile step and helps move us closer to our goal of delivering an experience that's true "Audio Video Luxury".