What is a lifestyle home theater?
When someone mentions a "Home Theater," what do you think of? We often think of "movie-themed" rooms cut off from the rest of the house that we retreat to when we want a real escape. However, if you're someone who wants the best picture and sound, but doesn't particularly want to slip into a void of total isolation (no matter how cool it may be!), don't despair. There is a solution for you.
Believe it or not, the trend is moving away from dedicated home theater spaces and more towards lifestyle areas that can provide both a great place to hang out and a highly immersive cinematic experience when you're ready to watch a movie. Of course, it does require some careful planning and coordination with your interior designer, but in 2021 it's entirely possible to have your cake and eat it too.
---
Make the best of a beautiful situation.
The reality is that most dedicated home theater spaces can't be the "perfect room" anyway for one reason or another. In all but the most extreme cases, some spatial or budgetary constraints will get in the way of a textbook layout. Things are no different than with a lifestyle theater. What's important is knowing the environment you're working with and designing a solution that overcomes the decorative and acoustic challenges. If you commit to doing things right, high performance is very attainable.
You've probably seen pictures online of some unique multi-use spaces; one of our favorites is a combination bar/theater area by Tym Homes. It's not drab or dark and offers plenty of spots for both conversation and serious stargazing.
---
Anatomy of a "Lifestyle" home theater
PSA : Due to the need to conceal wiring and hide speakers inside of your walls and ceilings, pulling off these kinds of spaces is much easier when you're pre-wiring with new construction or when your remodeling a room. It can still be done when you're not in the midst of a large-scale project, but you'll probably at the very least end up with some drywall work.
Step 1. Analyze the Space
There are two gremlins to contend with when designing your home theater area. The first is ambient light, and the second is acoustics.
Ambient Light :
Ambient light is the light that is already in the room. You need to pay close attention to where this light is coming from, how much there is of it, and what type of light it is. Not only can it affect the picture quality of your home theater system, but it can also cause eye strain and even headaches. So, what can you do about ambient light? Our go-to solution is installing motorized black-out shades for dealing with sunlight flooding a room through windows and skylights. Shades let you keep your space bright and airy while still effectively controlling the light during viewing.
We also need to make sure we have control of the artificial light in the room. This can be addressed with a basic dimmer switch, but we usually like to take things a step further. For example, implementing lighting control that triggers a "movie scene" lets you create the kind of "magic transformation" most people are looking after.
Now onto the second gremlin;
Acoustics:
Have you ever wondered why movie theater walls are draped in fabric or some other kind of soft cushy materials? We've come to associate that with the intrinsic charm of a vintage movie house and probably assume it's an aesthetic that's rooted in nostalgic tradition.
In reality, the choice of those materials is very intentional. Hard surfaces like drywall or wood flooring reflect sound, while soft surfaces absorb sound. When sound bounces from surface to surface, this is called a "reflection." Reflections impact the clarity of the soundtrack, make bass thin and muddy, and generally rain on your parade. Lousy acoustics will make even the most incredible speakers sound anemic.
We tackle these issues with thick fabric walls and huge corner traps in a dedicated theater, but we have to get creative in a lifestyle home theater. Addressing the issue of acoustics is a great touchpoint to coordinate with your interior designer. Ask them to incorporate soft surfaces into your design. If your room has hardwood or stone floors, an area rug under furniture is a significant first step. Furniture soaks up lots of sound, and there is even one more sneaky trick.
If you plan to have any canvases hanging in your room, you can order artwork printed directly on a sound-absorbing panel. No one will be the wiser, but you'll be effectively taming the reflections in your room.
Lastly, don't forget to pay attention to the rooms around your lifestyle theater. If bedrooms are nearby, adding a backbox to your in-wall speakers will help keep sound from transferring to adjacent spaces through walls and floors.
Pro Tip: Your neck is calling. If this will be your primary display or TV, don't put it over your fireplace. Most of the time, a TV mounted high over the fireplace spells severe neck pain, even during casual viewing. However, we do grant an exception for a TV that will double as artwork, like Samsung's "The Frame."
---
Step 2. Projectors & Screens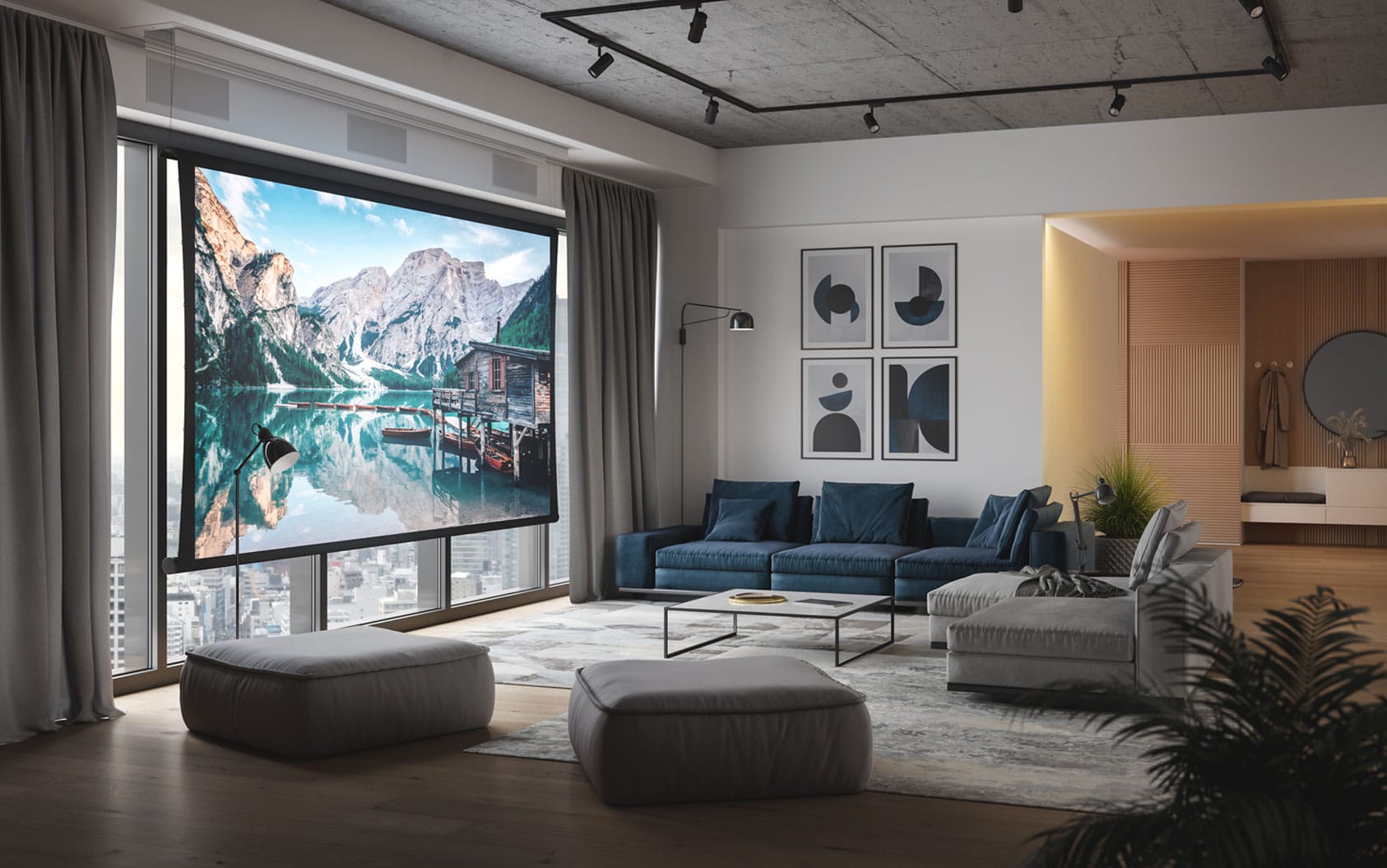 I think the true cornerstone of these multi-use spaces is employing a projector system and a retractable motorized screen. There are a couple of ways we can make that happen.
Recessed projector lifts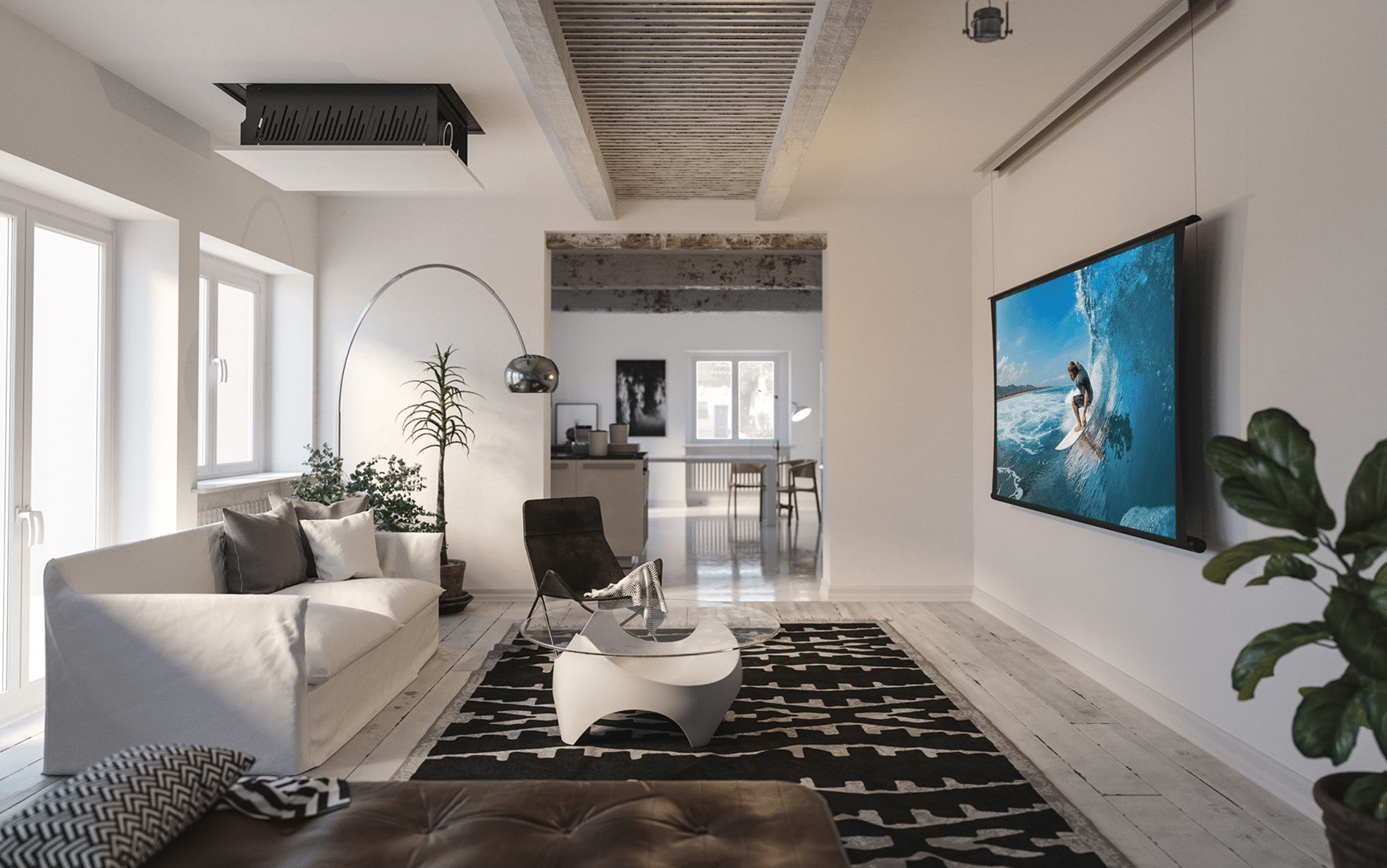 The biggest advantage of a recessed model is that it takes up the least amount of room possible. The projector is tucked away into the ceiling when not in use and gracefully descends into its working position when called. This really does provide the ultimate "transformer" moment and allows you to completely conceal your room's dual personality.
Ultra Short Throw Projectors (UST)
Another option for an incognito projector installation is something called an Ultra Short Throw projector. A UST can be placed inches from a wall and even recessed into a custom furniture piece. Due to their close proximity to the screen material, a UST can produce a much brighter than a similarly rated traditional projector. Just keep in mind UST's require a particular type of screen to make the most of the technology.
---
Step 3. Speakers for your home theater
You have two choices when it comes to selecting speakers for your lifestyle theater. You can opt for very low-profile speakers that blend away into your design, or you can incorporate options that become a part of your design. (We've covered that in greater depth in our post "Top 4 In-wall Speakers Your Designer Will Love!") Whatever you choose, there are options available that are sure to complement your design.
It's always best to install your front speakers either directly beside or behind your projector screen. If space or materials don't allow for that type of setup, When a wall install is not an option, we're big fans of Focal's "Invisible Speaker System."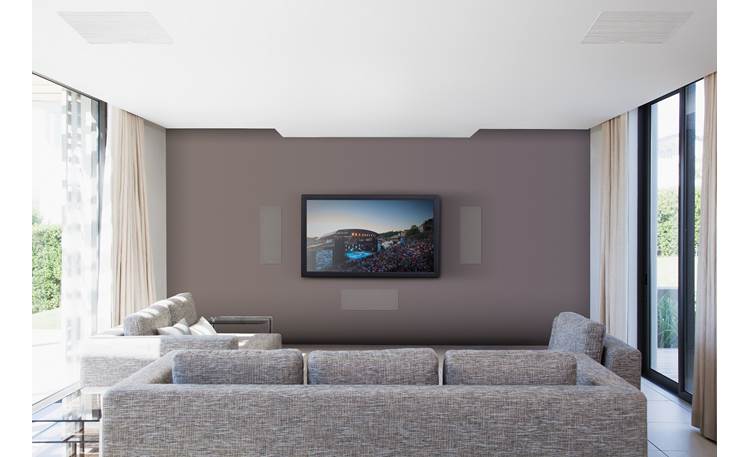 These are in-ceiling speakers that fire at an angle to very effectively create the illusion of sound coming from the screen rather than above. They also incorporate backboxes as standard and have a sexy trim-less bezel. Yes, please!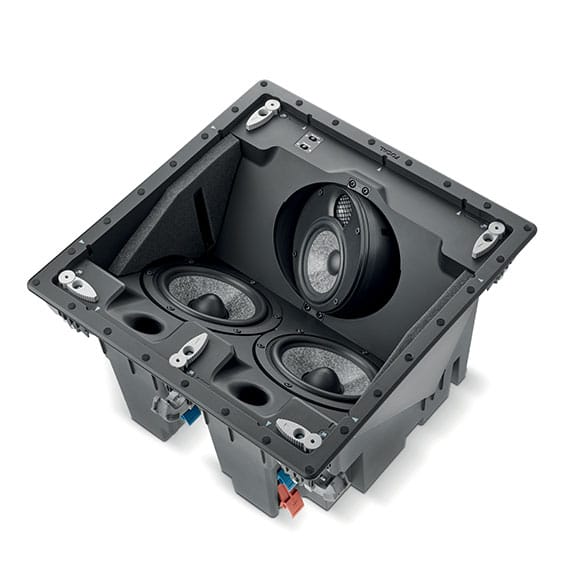 ---
Step 4. Home Theater Seating & Furniture
I think most of us aren't looking for colossal movie theater recliners in the middle of our living room. That would kind of defeat the whole purpose of a convertible space. Fortunately, several seating companies have stepped up to the plate and now offer home theater seating that's virtually indistinguishable to even the most discerning taste. Look for "Media Room Furniture".
---
Step 5. Bringing it all together.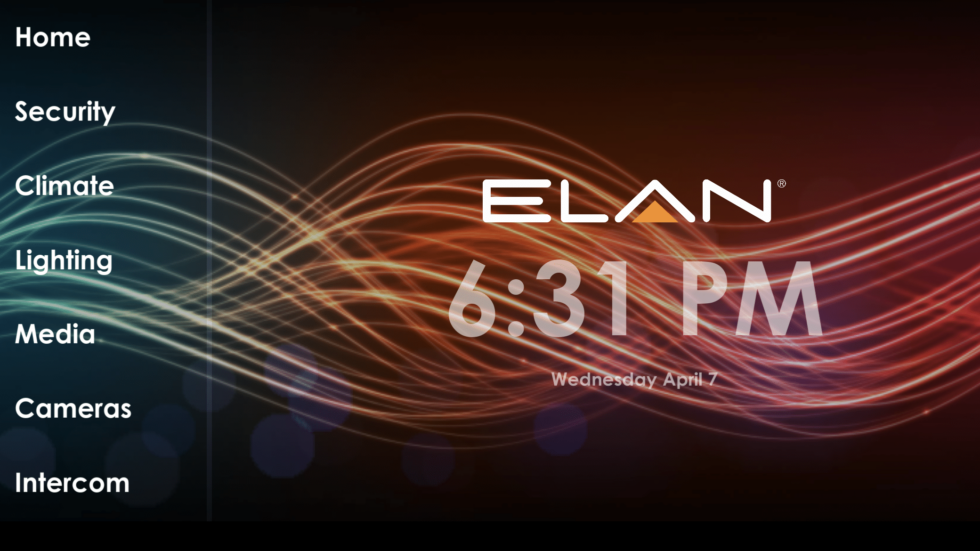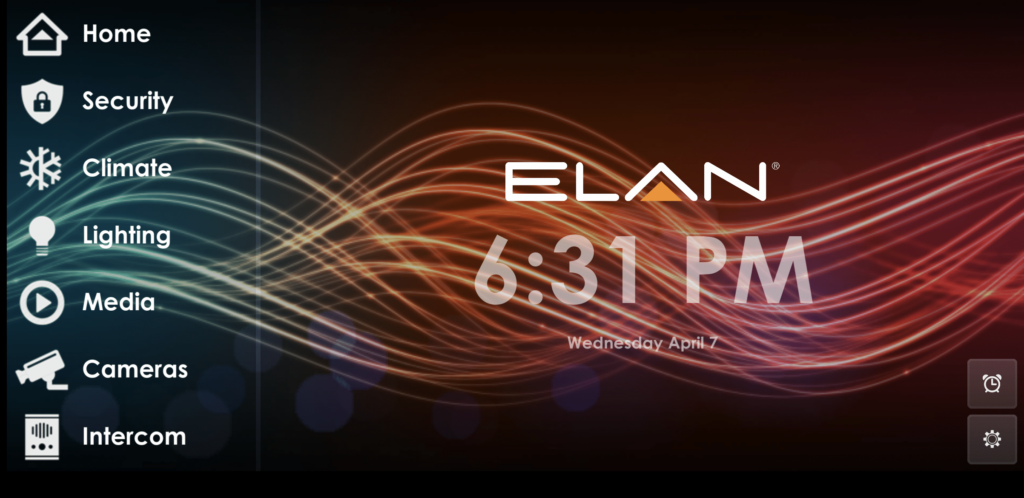 Elan makes everything easy.
If you've made it this far, the pieces are all in place, and now it's time to tie everything together. Here is where an Elan home automation system can take things to the next level. At this point, if you've followed our recipe, you have a Projector, Motorized Projection Screen, Receiver, Motorized Shades, and then, of course, the lights and climate in your room to control. My math tells me that it would require no less than six remote controls.
When a customer requests this type of setup, we create a "Movie Mode" button that simplifies this entire ballet into a single button press. From their Elan remote control, touchscreen, or smartphone, the projector lowers into position and powers on, the screen drops down, the room's lights dim, the sound turns on, and you're dropped straight to your favorite channel or streaming service. That same Elan remote can control your Apple TV and even adjust the temperature in the room. This is a killer app for home automation—no switching inputs, no modes, and no digging remotes out of the couch.
When movie time is over, press that same "movie time" button, and everything disappears. Finally, the lights fade up, and you're ready to make memories with your friends.
---
PROUDLY SERVING: BRENTWOOD, FRANKLIN , NOLENSVILLE, BELLE MEADE , NASHVILLE & MORE